Once again,
Sample Store
brings me goodies to review & share with all.
This two brands; VICCAL & HANAMEI are pretty new to me.
I was given the following products to try out: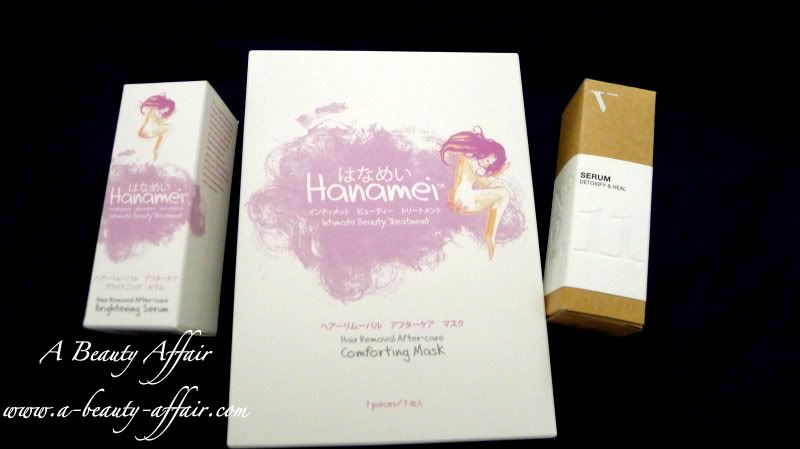 Hanamei Hair Removal After-care Brightening Serum
Viccal No.2 11 Detoxify & Heal
For this blog entry, I will be reviewing the Hanamei products.
My review on Viccal's serum will be coming up soon!
What is Hanamei?
For most hair removal procedures including waxing, plucking and shaving, the undesirable can often be removed but not its side effects.
Bumps, ingrown hair, darkening of the skin, inflammation and soreness are just some of the more common problems that your skin can suffer from.
Hanamei®
is created specifically to care for your most intimate area especially after any hair removal therapies. Besides providing instant relief after waxing,
Hanamei®
also help keep delicate skin supple, smooth and fair over time.
Rich in pure Japanese botanical extracts, the
Hanamei® Intimate Beauty Treatment range
is gentle yet effective for everyday use, even on other areas like the underarms, elbows and kneecaps where skin is often rough and darkened.
What is Hanamei® made of?
Hanamei® is specially formulated with only natural Japanese plant ingredients.
Each botanical extract is carefully chosen and blended together to care for your delicate skin.
Free from alcohol, artificial preservatives and colourants, the Hanamei® Intimate Beauty Treatment range provides instant relief after any hair removal therapy and ensures that your skin stays healthy, smooth and fair naturally over time.
What are the Key Ingredients?
Sakura Extract moisturises and prevents rough skin.
Amurense Bark is anti-bacterial and reduces the likelihood of follicle and pore infection.
Artichoke Extract reduces inflammation of skin and helps minimise itchiness.
Organic Rosewater gently calms the emotional and physiological aspects of skin.
Aloe Vera Extract has a wound-healing effect and soothes the skin.
The 2 products I got to try are the brightening serum & the comforting mask.
Hanamei® Brightening Serum
The Hanamei® Brightening Serum contains multiple botanical actives to minimise ingrown hair and lighten darkened skin caused by hair removal and micro-abrasion especially at the underarms, elbows and kneecaps.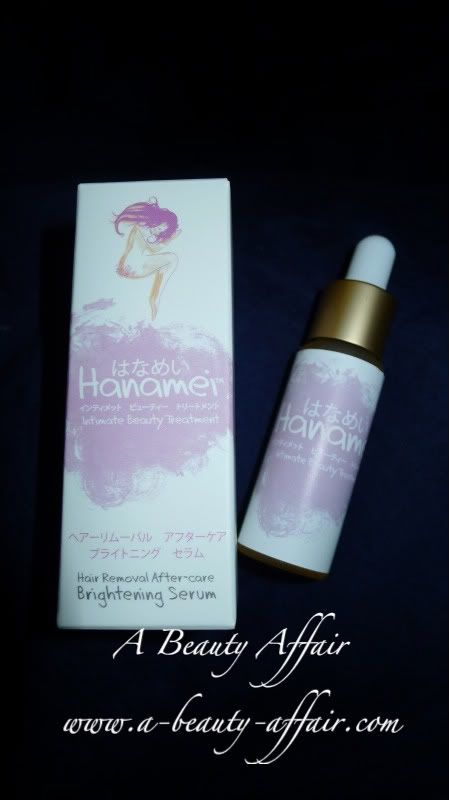 Naturally fragranced with organic Rosewater, this serum is infused with skin-nourishing
natural actives that are easily and quickly absorbed for more radiant, moisture-charged and beautiful skin.
Use the Hanamei® Brightening Serum to:
• Maintain elasticity and resilience of skin
• Minimise ingrown hair
• Lighten the appearance of skin darkened by hair removal and micro-abrasion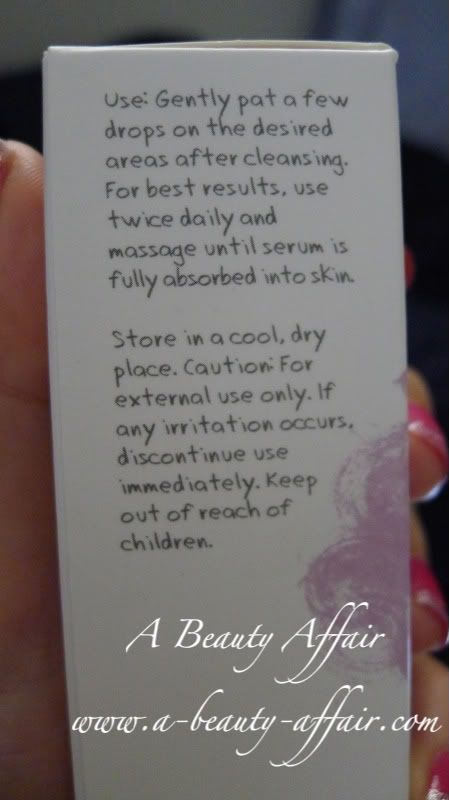 The Hanamei® Brightening Serum can also be used on the underarms, elbows or
kneecaps to lighten and smoothen out rough skin!
My thoughts:
As you can see from the above photo, the serum comes in a handy, little dropper bottle.
The liquid serum is light and has a very faint rose scent.
Though it is alittle sticky upon application, I still find it bearable.
I also apply some on my underarms in hope of whitening & smooth out them.
However, I had a mishap and accidentally spilled 3/4 of the contents of my brightening serum :(
So I have been using what was left of it.
Though there is no drastic lightening in my the under arm areas, I probably could have seen results if I had managed to finish up the bottle.
Rated:



- worth trying out, it does help moisturize rough patches of skin though I can't comment yet on the lightening part.
Hanamei® Comforting Mask
The
Hanamei® Comforting Mas
k is specifically designed and formulated to provide instant relief and care for delicate skin in the bikini area that has undergone hair removal therapies.
Naturally fragranced with organic Rosewater, this 100% cotton mask is rich in skin-nourishing natural actives that are easily and quickly absorbed into skin, keeping your intimate areas supple and smooth.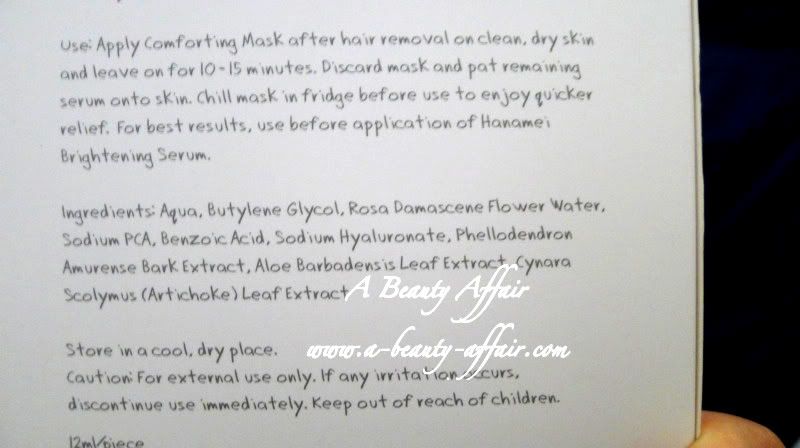 Use the
Hanamei® Comforting Mask
to
• Soothe and minimise skin soreness
• Reduce redness and skin irritation
• Protect skin against follicle and pore infection
Use a chilled Hanamei® Comforting Mask after waxing for instant relief!
The mask helps to reduce soreness and prevent inflammation.
My thoughts:
Using this comforting mask when chilled is indeed a pampering indulgence.
Each mask is packed individually and there's 7 in a box for a week's usage.
Just use and dispose off once done makes this very convenient.
Though I don't go for Brazilian waxing, I do ensure that the area down south is maintained and sometimes,
using a shaver gives you skin irritation.
However, after using the comforting mask, the skin is softer and irritations are soothed.
Using it for 7 days straight gives you softer and hydrated skin!
Rated:




Not available in stores yet, for more information or sales enquiry, please e-mail
hanamei@ilypl.com