Have you seen the new Vichy kid on the block?
Yes, I'm referring to the Vichy Essentielles Skincare Range.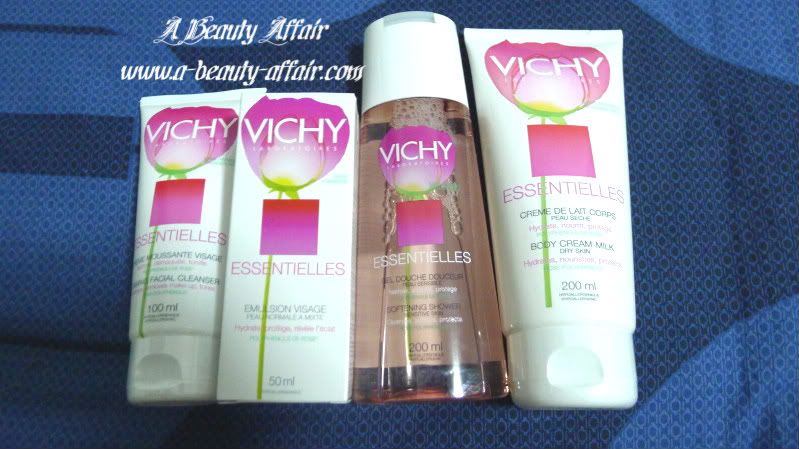 Essentielles, with rose polyphenol, glycerin and Vichy Thermal Spa Water, protects, hydrates and soothes your skin to give you that healthy and radiant glow!
Paraben-free, hypoallergenic and tested on sensitive skin under dermatological control,
Essentielles is for anyone who does not have any particular skin concerns but wants basic hydration and protection.
Thanks to the sweet folks at Vichy, I got a set to try out :)
What's interesting about this skincare range is that it's affordably priced and it also comes with the body care products too.
If you thought the 3rd bottle from the left above is the toner than you are so wrong.
(Don't worry, I made the same mistake too)
It's actually the shower gel and the tube next to it (extreme right) is the body cream!
Going back to basics
If you have a normal skin type and no particular skin concerns then this is the range for you.
Vichy Essentielles is a basic FACE & BODY care system that focuses on the skin's essential daily needs for its health and beauty. Embracing pharmacy values of tolerance, and with efficacies that are instrumentally measured and tested on sensitive skin under dermatological control.
Vichy Essentielles hydrates, protects and reveals skin's radiance.
Essentielles Foaming Cleanser @ S$11.90 / 100ml tube
This Vichy cleanser contains 21% of Glycerin which is a moisturizing active ingredient.
As you probably know, I'm a big fan of such 2-in-1 hassle-free cleansers.
It has wow-ed me because it not only cleanses but also removes makeup; including eye makeup.
The texture is smooth and creamy; foams up easily and effectively cleans makeup.
Skin feels fresh and clean, soft to touch too after using.
Essentielles Facial Emulsion @ S$16.90 / 50ml tube
This facial emulsion contains Shea Butter which has nourishing and emollient properties, as well as Allantoin (this comes from the roots of comfrey - a perennial plant) that has repairing, softening , moisturizing and calming properties for damaged or fragile skin.
This moisturizer is suitable for both normal and combination skin.
It's texture is light-weight and absorbed instantly!!
It also did not break out on me, the scent is a light floral fragrance which you will find in the shower gel and body cream too.
You can use this daily and you will find makeup going on smoothly after application.
Essentielles Softening Shower Gel. @ S$12.90 / 200ml bottle
This is one refreshing shower gel with a faint floral fragrance.
I love that the scent is light and not overpowering for I am not that much into flowers.
The texture is slightly runny but lathers up decently.
And it gently cleanses, softens and protects the skin with Polyphenols.
Essentielles Body Cream-Milk @ S$14.90 / 200ml bottle
Give your skin a yummy treat with this body cream after using the Essentielles Softening Shower Gel.
Like the emulsion & shower gel, it contains the same light, refreshing floral fragrance.
This body cream contains Shea Butter and Polyphenols which hydrates, protects and reveals skin's glow.
I like to use this after shower because I sleep in an air-conditioned bedroom and this does me the adequate moisture I require.
Vichy Essentielles products can be found at VICHY counters in selected Watsons, Guardian, Unity & Nishino pharmacies; and all major hospital pharmacies.
Now, you can WIN a set of Vichy Essentielles products too :)
All you have to do is...
3) Comment why you wanna win it & mention in the comment that you are referred by A-Beauty-Affair
That is very important because I will be picking one lucky winner :)
Contest ends 11th March 2011