Does this appear familiar?
Well, that's because I'd blogged a short little introductory entry on the Sana Namerakahonpo (wow, ok now that's a mouthful) series before over
HERE
This time, thanks to
SANA
&
Sample Store
I got to try them out for myself!!
Now, you must have heard and read countless times how drinking soyabean milk is good for health & skin. So how 'bout Soya in your skincare?
Soybean extracts & Ceramide
has long been used in Japan as a skincare ingredient.
In fact, it's so well-received in Japan, it's the No.1 skin care over there with
over 35 million units sold
.
You must be wondering why the packaging seems to differ, well that's because Sana Namerakahonpo comes in 3 different ranges so there's alittle something for everyone.
Currently, the latest in this Soya range would be the
Haritsuya CoQ10
series.
It contains
Soya & CoQ10
for pumping up
moisture & collagen
to give one a
youthful & radiant
complexion. This line also
prevents the skin from losing its elasticity
which will result in sagging and wrinkles.
There's also a whitening series for brightening up the complexion, try out the
W Series with Arbutin
.
It brightens up the skin and also treats freckles, dark spots & uneven skin tone.
dry skin
who can reap from the abundance of benefits that the
Deep Moisture
range can provide. Containing
Soya Isoflavone
which helps to regenerate back lost female estrogen due to the much dreaded aging process.
Unlike certain skincare ranges, you need not specifically use the entire set of products from the entire series for the Sana Namerakahonpo. You may mix and match according to your skin's needs.
And my picks are :
Shown in above photo (from left to right)
Namerakahonpo Haritsuya Cleansing Wash
Namerakahonpo Haritsuya Skin Lotion
Namerakahonpo Milk Lotion W
Namerakahonpo Haritsuya Essence
Namerakahonpo Cream W
Meet Miss Sana Soya whose skin is one that's enviable by all.
How does she achieve such smooth & supple complexion?
Let's check out the 5 steps which will uncover the secrets to her glowing beauty.
STEP 1: CLEANSE with Namerakahonpo Haritsuya Cleansing Wash
This cleanser has a thick, creamy texture and works up quite a rich lather.
I find that it can even wash off light makeup too.
It cleanses well and best of all, it does not cause any sensitivity to my eyes.
STEP 2: TONE with Namerakahonpo Haritsuya Skin Lotion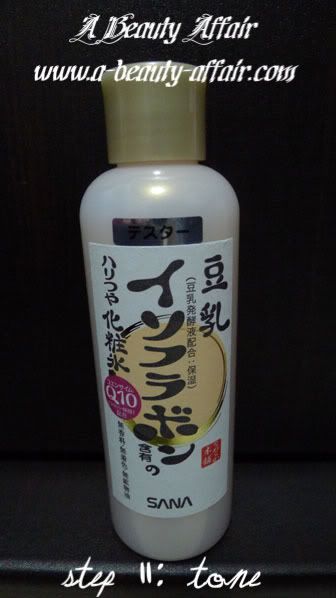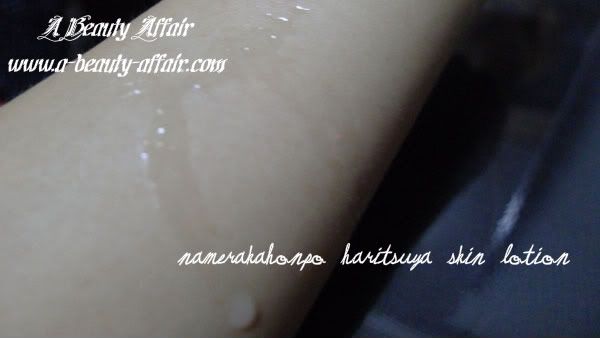 This skin lotion is not sticky like some other toners I've tried before.
I like how it smells; light and fresh. I apply some onto my palms and pat the sides of my face lightly.
The lotion is immediately absorbed after patting a few times.
Love the way my skin feels after using it too, it feels all pumped & perked up.
STEP 3: MOISTURIZE Namerakahonpo Milk Lotion W
The milk lotion's texture though slightly thicker than the skin lotion, is still kind of runny.
This gentle moisturizer is easily absorbed by the skin and provides sufficient hydration for me.
This can be used before your sunscreen in the day, I find that makeup goes on smoothly after application.
No caking or flaking experienced.
STEP 4: PAMPER with Namerakahonpo Haritsuya Essence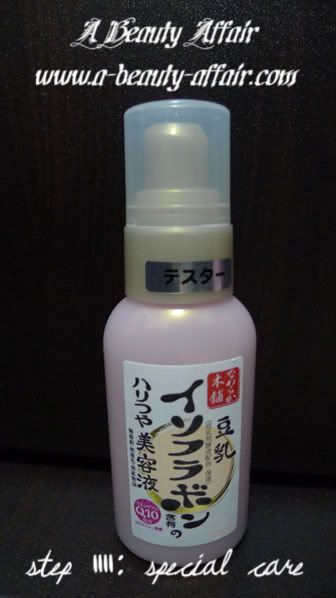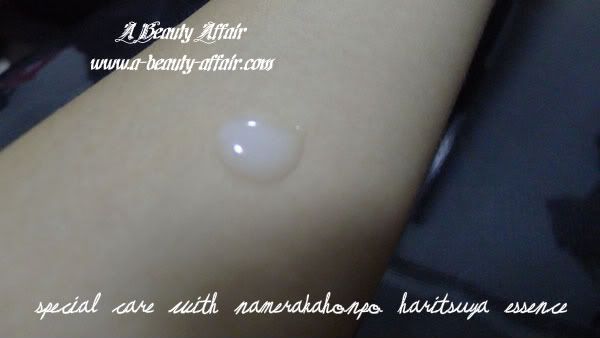 The essence comes in a nifty little pump bottle which I find pretty cute and handy.
Ok, I admit I'm kind of a pump bottle freak since I find them more hygienic.
I personally think you can skip this step on some nights but anyway, this essence is lightweight like the other products in this series. So even if you use this daily, it does not matter since it is also absorbed very quickly upon application.
STEP 5: END OFF with NIGHT CREAM of Namerakahonpo Cream W
Though you might be thinking, since there's already the moisturizer at step 3 so why the need for night cream?
Well, you do not require alot of this, just a pea size amount will do. So you need not worry about having too much 'clutter' on your face.
It's good to use a night cream to ensure the skin gets all the moisture it needs when it rejuvenates at night. Furthermore, if you sleep in an air-conditioned bedroom, all the more you should use a night cream.
This one helps
seal in moisture with masking effect during sleep
.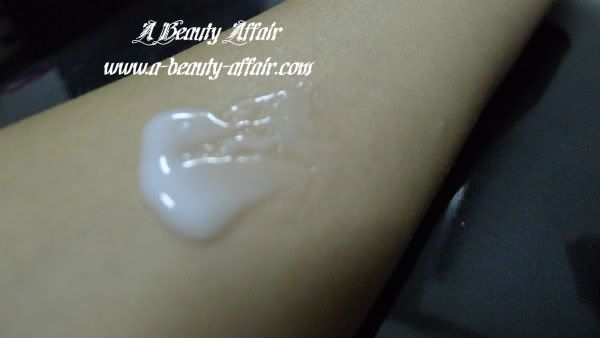 This night cream is not thick but in fact, relatively light in texture and is easily absorbed by the skin.
It does not leave any sticky after feel at all.
My thoughts after using this range for around a week is that it does provide the hydration my skin requires.
The products does not cause my skin to break out and in fact, each morning I wake up with soft and moisturized skin.
But what I love best about this SANA Namerakahonpo range is that it is
- Fragrance free
- Mineral oil free
- Artificial colorant free
Rated:




This is a series worth checking out :)
SANA Namerakahonpo products are available at
Watsons & Sasa outlets
.
Do check them out!!
Also do join
SANA Facebook
's page & participate in their
DECORATE MI
Contest!
Decorate the mung bean and the top 3 winners with the most votes get a Sana hamper.