Aroma Bath Sea Salt
Sea Salt
is rich in natural minerals which helps to exfoliate the skin. Regular exfoliation with sea salt helps to renew and rejuvenate your skin. You can use it in a bath or during a massage to help remove dead skin cells which helps to promote a radiant complexion. Our Aroma Bath Sea Salt contains Jojoba Oil, a light and natural emollient. Once the dead skin has been removed, the Jojoba oil moisturizes the new layer of skin beneath.
Benefits of using Sea Salt ?
Aroma Bath Sea Salt helps to effectively removes dead skin cells which causes dry skin. It will scrub away the upper layer of dead skin until only the healthy layer appears. It not only helps to moisturise and hydrate your skin but also helps to prevent ingrown hair.
Aroma Bath Sea Salt can be used to relieve acnes and stop skin itchness. A natural formula that gently dissolves dust, grease, blackheads and white heads while exfoliatin the dead skin cells, leaving the skin smooth and clean after bath.
All Aqua Rine Japanese Aroma Bath Sea Salt comes in both
Fine & Coarse Salt (With a sticker label)
Thanks to
Beaute Inn
I got to try out a sample of both their Fine & Coarse Sea Salt.
As my skin is sometimes dry, I was recommended the milk Sea Salt (Coarse) and peach Sea Salt (Fine).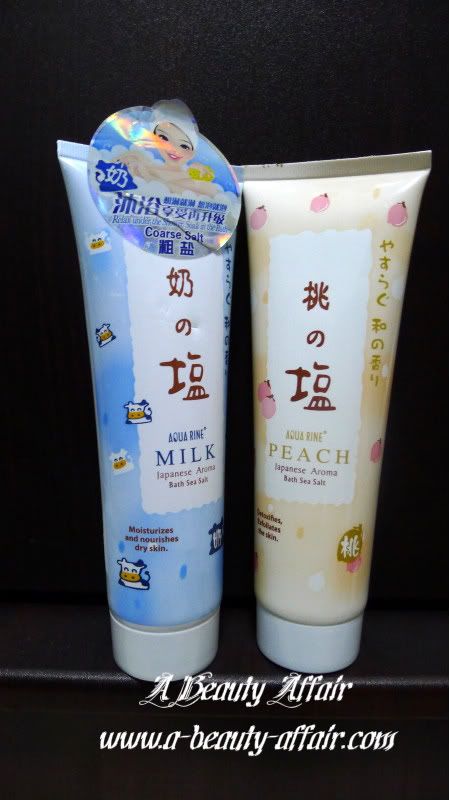 As mentioned above, these are great as scrubs during shower or even a DIY spa session.
Yes, you can indulge in your own DIY spa right within the comforts of your own home.
Just light up some aromatherapy candle, make sure you're alone at home or at least will be left alone while you take your mind off everything and relax.
You could use the Aqua Rine Sea Salts to start off the session with a scrub before doing a wrap and ending off with a massage.
Fine Salt:
For those who prefer a mild scrub. The salt are fine and it dissolves easily when your skin is wet.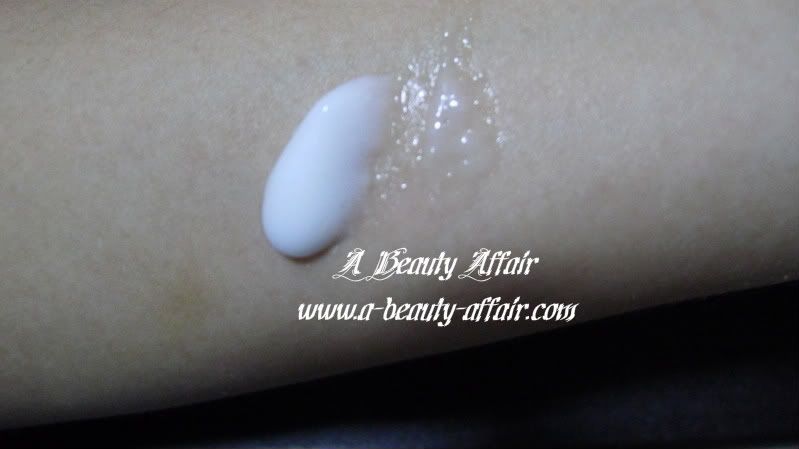 I was recommended the
PEACH
fine Sea Salt and I love it. In fact, I have been using it for a month plus DAILY as it is really gentle. It helps to exfoliate dead skin and reduces ingrown hair because I epilate sometimes.Our skin regenerates every 5 days so you can either exfoliate once a week or do it daily with a gentle scrub such as this one.
Coarse Salt: For those who prefer to scrub longer. The salt are coarse and does not dissolve as easily as the fine salt.
The scent lingers on for quite sometime after shower unlike most bath products that has fading scents.
The salt grains for the COARSE are obviously bigger than the fine salt, therefore, not so suitable for daily usage.However, I still find it gentle enough on my skin.
How To Use
After taking a shower, apply a comfortable small amount.
Massage onto skin in a circular motion over body slowly with
your hands, concentrating on dry, rough or other problem areas.
Let the salt minerals slowly dissolve. Rinse Well.
External use only.
Discontinue use if skin has any allergic reaction.
Avoid contact with eyes. Keep away from children.
Store in cool & dry place and avoid direct contact with sunlight.
And if you have any cuts or open wounds, do avoid the area as the salt will sting it.
Aqua Rine scrubs can be found at
Watsons, Sasa
and other
Beauty Stores
and
Beaute Inn