I had a little introduction done at my previous post:
CLICK HERE
And yes, I'm almost done with my little 15ml tube of Dr Jart+ Blemish Base.
I'm not really a fan of BB creams, that's why you seldom see me posting on it.
There's nothing to dislike about them but let's just say that I'm more of a powder girl.
Anyway, if you like a
dewy glow
then you should try this BB cream.
As the after effect is not matte like what powders do and instead, you get this
natural, dewy look
.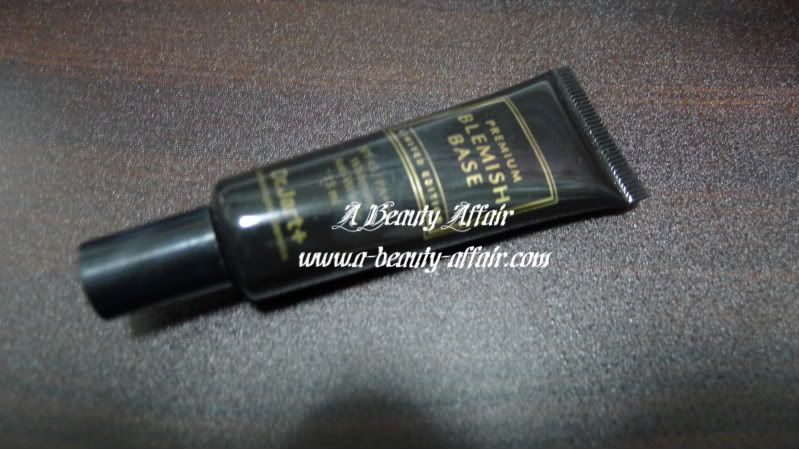 Triple functioning premium BB cream with Anti-Oxidation and skin treatment effect:
Whitening, Wrinkle improvement, and UV protection
Aids darkness of the skin and protects wrinkles from UV
Powerful UV protection (SPF45/ PA+++)
High SPF45/PA+++ isolates UV A and B together for superior protection
Contains effective anti-oxidation ingredients for wrinkle improvement
Anti-oxidation ingredients like BioPeptide, EGF, and Acasia collagen restore skin back
White gold maximizing skin protection
Contains white gold which eliminates harmful ingredient and cleanses the skin boosting the
protecting ability. High level of coverage hides blemishes for a natural look and maintains soft
and moisture condition for a long time.
And this is how it will look on my face.
I apologize for the not very clear photos as this was taken with my iphone 3GS.
BEFORE (Nude skin) except for eye makeup
AFTER USING Dr Jart+ Premium Blemish Base [SPF45/PA+++]
Though the photos are not so clear but if you noticed, the blemishes near my mole are mostly concealed by the Dr Jart+ Premium Blemish Base [SPF45/PA+++]!
Why it's worth 4 hearts:
It's hassle-free, you do not need a separate sunscreen or concealer if you only have minor flaws to cover up
If you love the dewy look then this is perfect for you
It stays on for more than 8 hours
It does not break out on my skin
Dr Jart+ Premium BB Cream (40ml) is sold at $59.00 exclusively at Watsons stores.