The geniuses at Kao have come up with a new range of damage care hair products that have made me a very HAIR-py girl.
Essential Damage Care
promises to nourish & care for your damaged hair, even up to the
last 15cm of it
. Many trendy ladies in Singapore have damaged hair due to the constant chemical-treatments we make our hair put up with for the sake of looking good. Think rebonding, perming & dyeing.... But how can one look gorgeous if the end result will only be dry & badly damaged hair? Fried hair is so not sexy. Did you know that even regular styling and blow-drying will cause damage to hair?
Most of us would be no stranger to miserable hair issues such as split-ends, tangles and brittle hair. We may even resort to cutting off our hair which we have painstakingly tried to grow out for the past year just to get rid the damaged portions. But ladies plagued with such HAIR ISSUES, fret not! As
Kao's Essential range of Damage Care
products will fix this problem for you!
They have two range of products depending on the hair finish you prefer:
Nuance Airy
: For an
Airy & Bouncy
Look
Rich Premier
: For a
Smooth & Manageable
Look
Thanks to the blogger campaign by
Kao
&
The Sample Store
, I was given both ranges to try out :)
Each range consists of a
Shampoo, Conditioner, Treatment, Hair Mask & Serum
.
The
NUANCE AIRY
range is more suited for those with limp, lifeless and flat hair.
Enriched with
High Purity Honey
and
Milk Protein
, the range strengthens and repairs damaged hair while
Ultra Shine Essence
restores shine.
Wild Rose Essence
leaves a protective layer to keep hair soft and moistened, giving limp and flat hair a light and bouncy feel.
The treatment contains
2xs
more
High Purity Honey
and
Milk Protein
while the hair mask has
3xs
more of it! Wow! For an intensive, pampering treat, try the hair mask, as it also contains
Shea Butter
on top of the other moisturizing ingredients which will repair your damaged locks.
The
NUANCE AIRY
range has a delicious scent that reminds you of strawberries and bubblegum. After usage, it will leave hair feeling really soft and flowy. I really like this range because it not only smells good but also makes my hair more manageable. However, my favorite item from this range would be the serum which I would go into details later on.
Rated:




The
RICH PREMIER
range is for ladies with untamed hair. Anyone here who wakes up to a messy head resembling a lion's mane each day? Hands up! *raises both hands & feet*
This range is also enriched with wholesome
High Purity Honey
and
Milk Protein
to repair and strengthen damaged hair while
Ultra Shine Essence
restores shine.
So what is different among the 2 range is the special natural ingredient essence.For this
Rich Premier
range, it contains the
Sunflower Oil Essence
that leaves a protective layer to keep your hair feeling soft and smooth. Like the Nuance Airy range, the treatment contains
2xs
more
High Purity Honey
and
Milk Protein
while the hair mask has
3xs
of it.
I was initially skeptical about this range as if you have read my previous blog entries on hair products, I find some hair products too rich for my scalp and was worried that it'll give me dandruff. However, to my pleasant surprise, the
RICH PREMIER
range did not cause any of such problems. In fact, it was perfect for my hair. It made my hair much more manageable! I did not have much problems with tangles while combing my hair. This
RICH PREMIER
range is currently my
HOLY GRAIL
product for hair care :)
Yes, I'm loving the
RICH PREMIER
range! For a nice weekly treat, you should use either the treatment or hair mask to pamper your locks.
Rated:





(My current Holy Grail Hair Care Product)
Now, I'm real excited to share about their star product; the
Intensive Leave-on Treatment Serum
which is enriched with
High Purity Honey Oil
&
Ultra Shine Essence
. OMG, I just simply cannot express how much I love it.
I think I can't live without my hair essence because it not only smells like fruity bubblegum but it also keeps my dry ends moisturized.
Essential has an
Intensive Leave-on Treatment Serum (Hair Essence)
for both range.
I seldom use hair serums but my damaged hair has been protesting. And I thought why not?

Nuance Airy Hair Essence contains high purity honey oil which provides deep moisture, the ultra shine essence gives hair a long-lasting shine while the wild rose essence keeps hair soft and moisturized. It is easily absorbed with no oily after-feel.

Firstly, I really do like the compact packaging. It is small and handy enough to place inside one's handbag. I've placed a lipbalm beside it to show it's comparison in size. It's height is probably about the length of 2 lip balms. Being able to carry this out anywhere meant that I could fix my hair whenever I needed to, without much hassle at all!
The serum felt like water; it was extremely light-weight. I pumped a few times onto my palm before applying it on my hair - mid-length to the tip. It felt slightly oily but was quickly absorbed and best of all, it did not leave any greasy residue on my palms. To be honest, I was surprised & amazed by that.
My hair instantly felt softer & smooth to touch! It also smells so good, like I was applying strawberry jam on my hair! Essential has solved my hair woes,and made me a HAIR-py girl by putting a smile on my face!
Rated:





Check out my hair's
BEFORE & AFTER
photos: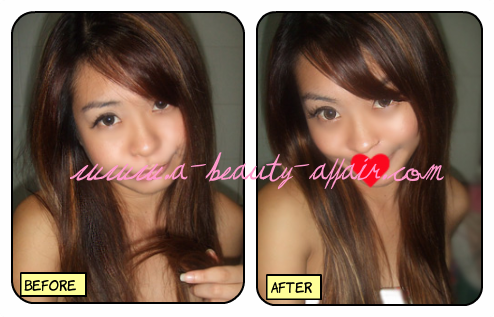 Just also let me share with you a little on the
RICH PREMIER
's hair essence. It is of a different texture; much richer as it is more suited for those with dry, frizzy hair. Just like the
NUACE AIRY
hair essence, it does not leave any sticky residue on your palms after application. Hair is moisturised and easier to manage after usage.
Here's my recommendation on how to manage your damaged hair and care for it.
Use the shampoo & conditioner daily or on alternate days. Depending on how often you wash your hair.
Once a weekly, use the treatment or the hair mask below for an intensive, moisturizing & pampering treat.
And last but not least, the Hair Essence can be used as & when you require.
Essential hair products can be found in Watsons stores.