Pret-A-Beaute brings you the 4 fall makeup trends this 2010.
And for those who are on a tight budget, thou shallnt fret as I'll just introduce some budget products you could use to recreate these looks.
The whole nude natural look is hot in the trend charts, and so is the defined eyes and nude lips combination that is all the rage in Japan right now.



I'm totally digging this whole au naturel look. It gives one a very clean, minimalist feel. Great as day makeup to the office or even out for high tea with the girlfriends.
Nude lips can be achieved with the Sana lip concealer
I realized that I prefer to wear it on its own then with the lip gloss. Maybe cause of the matt finish it gives.... Guess I am not a fan of glossy lips.
Come evening, add on more definition to the eyes and you're ready to hit the clubs. This smoldering, intensive eye makeup look is sexy and trendy.
However, do experiment before going in for the dive as the smoky eyes look is not what everyone can carry or am able to achieve without much trial and error. You don't want to end up looking like a lost panda in the city or someone who had just survived a back alley robbery.
If you have short or spare lashes, do try false eyelash extensions. This will brighten and open up the eyes further. You may also stick to the conventional mascara to achieve the look though. However, I'm a fake lashes convert so I still stick by my falsies to give me those drama-mama eyes.
Get this look with Sana's Super Quick Products.
Line eyes with the powder liner for a smoky look:
Sana can be found at John Little, Watsons or Sasa stores.
This is one for the daring, as such loud lips are bound to attract more attention than one can handle. I think it's a fabulous look for night, but if done properly, it should look good for day makeup too. Do keep makeup on the other features minimal as the lips are the emphasis. You will want to avoid looking like a mascot which had just escaped Universal Studio @ Sentosa.
Tip:
Use a lip liner before or after applying the lipstick to give lips a more defined appearance. Applying powder on the lips before lipstick application can also help lipstick stay on longer :)
Try Tony Moly's lipstick in
RD03
This is interesting, I personally find purple quite a difficult color to wear especially on the eye area. If not done correctly, people might mistake my eyeshadow as theatrical makeup for bruising.
If Chanel is out of the budget for you, do head down to Watsons and check out the
Majolica Majorca
range. For Chapter 27, they have beautiful hues of purple and pink.
You could recreate this look (photo on left) with their
Blooming
Dream Eyes palette in Midnight Dream
: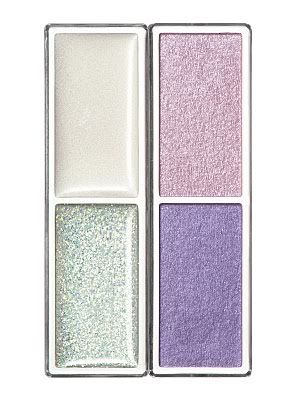 And finish off with their highly-raved mascara, the
Lash Enamel Glamour Volume On in Violet Magic (shade VI606)
Images from Pret-A-Beaute