Here's my review as promised :)
I have been taking the pills from the Beauty Radiance set for close to a month already.
If you have not read my introduction on AFC & why collagen supplements will aid you with your anti-aging regime. Do check out my previous
BLOG POST
here.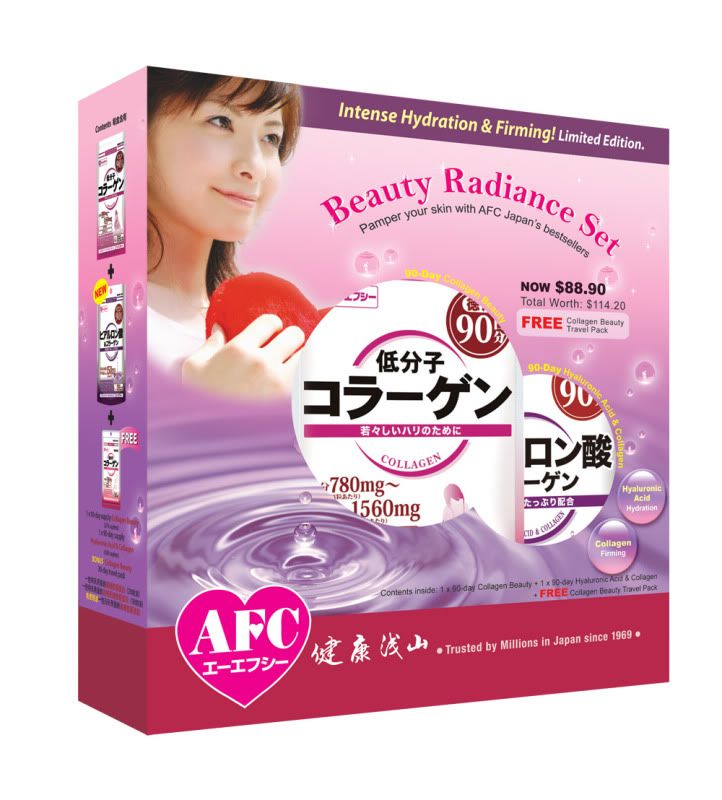 In conjunction with their 40th anniversary promos, they have packed the collagen supplement into this limited edition set.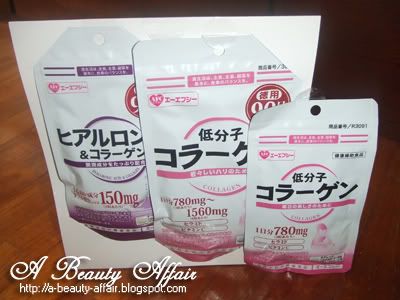 90-Day Collagen Beauty Pack x 1
90-Day Hyaluronic Acid & Collagen Pack x 1
FREE 30-Day Collagen Beauty Travel Pack x 1
As previously mentioned in my earlier blog entry, usual price for the AFC Beauty Radiance Set is S$114.20 but with AFC Japan's 40th anniversary promotion, it is now available at a special price of just S$88.90.
Which I find really worth it and a few of my friends have bought the Beauty Radiance set after reading my blog entry.
As a lady in her mid-twenties, starting on anti-aging is not far from my mind. We all start to age the moment we hit 20-21 years old and prevention is better than cure. Once the wrinkles and other ugly aging signs start to set in, there is nothing much you can do about it. Why splurge thousands on botox or other cosmetic surgery procedures when you can try to delay it now?
I must admit that I have not been taking good care of my skin. On some nights when I am so tired out, I just go to bed after cleansing my face. Yes, *guilty-look*, I do not follow up with toning & moisturizing, which is really bad :( However, I do remember to take my supplements as it's so simple. Just open your mouth and pop the pills in, gulp down a mouthful of water and you're done.


Of course, it is also recommended that you eat the supplements around 10PM and then go to bed immediately. As the skin rejuvenates from 10PM to 2AM, so if you keep missing these precious hours of sleep. You are definitely NOT getting your beauty sleep at all!
I think that so far, my skin is still doing fine despite all that I have and not have been doing to maintain it.
So it must be the collagen & hyaluronic acid supplements at work! My pimples are kept at bay, oil control has been pretty good and makeup goes on well. Taking these supplements makes battling anti-aging almost effortless and hassle-free.
Besides that, the packaging makes it so convenient to bring out. A bottle is too bulky to luge around in your handbag but these mini zip-lock packs are handy enough to bring along even if you are going overseas. You need not worry about having to transferring them into a pillbox (read: BULKY).
The size of the pills are also small enough, it makes it so easy to swallow in comparison to the previous brand I was taking. I had a difficult time swallowing them and the taste was pretty awful if I were to chew on it. However, AFC Japan's collagen pills did not leave a bitter after-taste at all.
I'm loving my AFC Japan pills!
Rated:




Now for the much awaited moment, you can
win
your very own pack of AFC Japan Collagen
too!!!
To participate, you must -
1) Be a follower of my blog in
Networked Blogs
OR Google
2) LIKE this
facebook page
3)
TAG YOURSELF
on the
AFC Japan 90 Day Collagen Beauty Pack photo
and click
SHARE
to post it on your profile wall!
The photo must appear in your profile page else you will not qualify.You may leave comments on the page or my blog entry to increase your chances of winning :)
PHOTO LINK: CLICK HERE
Contest ends 10th Oct 2010 Midnight & results announced by 15th Oct 2010!
Contest CLOSED in advance!! Thanks for the response :) Winners will be announced soon.
Really sorry about the technical glitch! I have set ALLOW TAGGING so you all may tag yourselves now >.<
Sorry about the inconvenience caused!
Do LIKE
AFC Japan's facebook page
too! They have regular giveaways there ;)
AFC Japan collagen supplements can be found at UNITY HEALTHCARE outlets.