As you know, I am taking part in the
Aqualabel Bloggers' Challenge
and I have blogged a couple of times about
Aqualabel
. However, this entry would be more thorough than the previous ones as I am excited to share what I've learnt in the Aqualabel Bloggers' Workshop!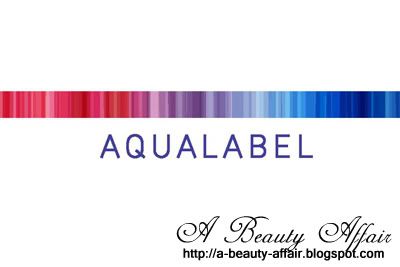 I have read about Aqualabel in various forums and was ecstatic when Shiseido emailed me asking if I would be interested in previewing their products. We all know how advanced the Japanese are, especially Shiseido with their technologies in skincare. All the beautiful women in Japan are walking, living proof of that. So I couldn't wait to get my hands on the products and try them out for myself.
What is Aqualabel
?
Aqua
refers to
Water Source
while
Label
refers to
brand
.
Therefore, Aqualabel is a promise to keep skin moist. It is the skin's guardian angel for moisture. Furthermore, it is common knowledge that in order to achieve beautiful & healthy skin, it should be sufficiently hydrated.
So what makes
Aqualabel stand out from the other brands
?
Aqualabel uses a unique key ingredient called AQUA SYNERGY that blends easily with both water and oil, thus, powerfully forcing moisture and effective ingredients into your skin while softening it at the same time.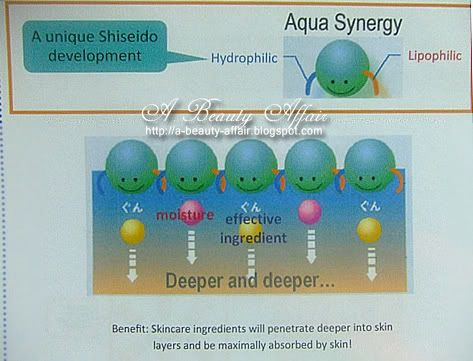 Aqualabel has an exclusive
Super-charging Skincare System
which infuses your skin with moisture and this SSS is available in all of Aqualabel's range.
SINK
: Aqual Synergy blends both water & lipids in your skin to powerfully charge moisture and skincare ingredients into your skin for maximum absorption of benefits.
SATURATE
: Moist Aqua Keeping Base contains 2 super moisturizing ingredients (Biocompatible Hydrating Liquid & Double Hyaluronic Acid)! Biocompatible Hydrating Liquid replenishes the skin's natural moisturising factors to ensure it remains hydrated all day whereas Double Hyaluronic Acid can hold up to 2000 times its weight to retain moisture!
SEAL
: Moist Aqua Keeping Base also contains Moisture Membrane to prevent moisture loss by locking hydration.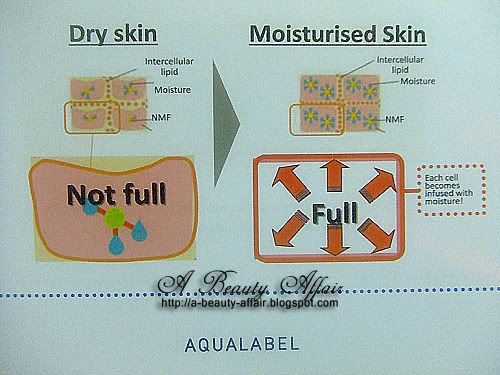 Previously, for the preview, I had sampled the Whitening range, so this time round I got to try out the
Moisturing
range. If you wish to read about the Whitening range, you may check out my previous entries on
Aqualabel
. However, it's not that comprehensive as some entries are still pending and not published yet. Well, I am still in the midst of trying out some of my Whitening range products. However,do stay tuned for that!
Pretty Yanny giving us an Aqualabel 101 lesson: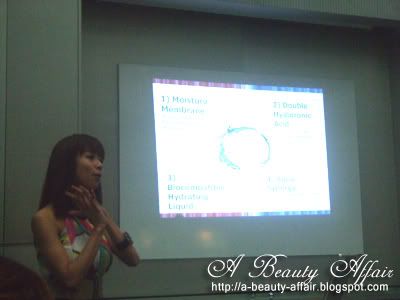 It was a hands-on workshop where we got to sample the entire range of products and boy did I have fun with the
Moisturising
range. This range helps replenishes the skin with moisture to achieve healthy, hydrated & supple skin.
Key ingredients:
Collagen Glycerin
- Keeps skin supple and youthful looking.
Apricot Extract
- Promotes the production of natural moisturizing factors.
Aqua Synergy
- What we read above ;)
Moist Aqua Keeping Base
- This helps to pump up skin & keeps it hydrated and moisturized!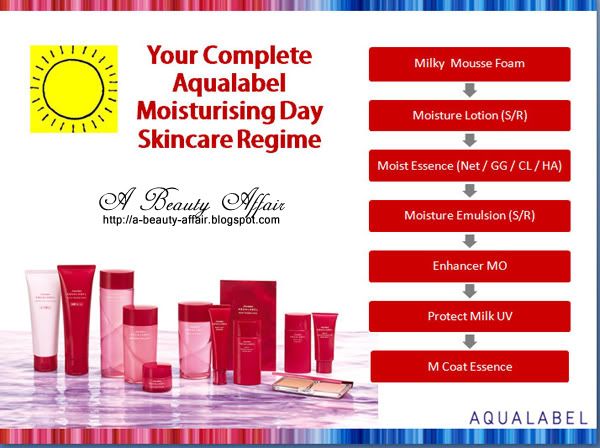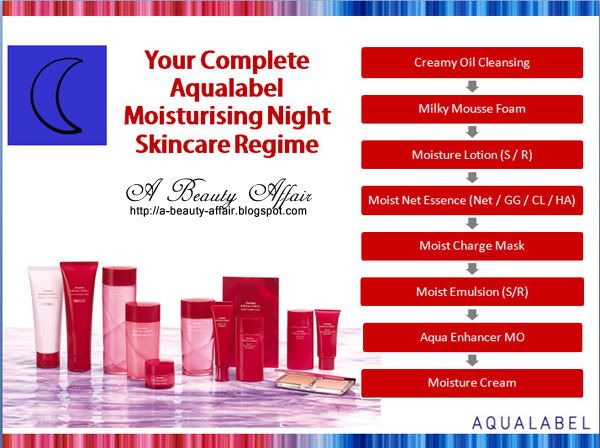 Since it was 7plus and I was going home immediately after the workshop, I followed the
night regime
. Firstly, we had to remove our makeup with the
Aqualabel Creamy Oil Cleansing
(S$17.50 for 110g).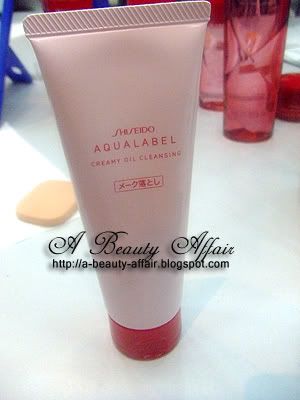 It's texture is soft and creamy like a normal facial cleanser. But once applied onto the face, it slowly 'melts' away your makeup. As no wash basins were available, we could not rinse off with water so we did it the facial-style; dab off with cotton pads and finish off with a hot towel.
After dabbing off with just ONE cotton pad for the area below my eyes (meaning my cheeks, nose & chin) and cleansing with a hot towel. And
voila!
Every single trace of makeup gone!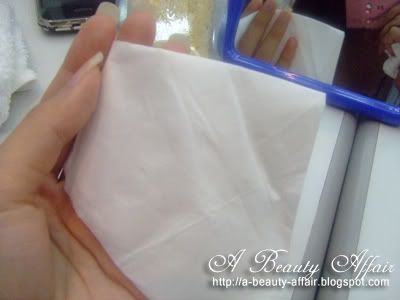 I swiped the tissue across my cheeks and you can see the from the above photo that it is clean with no residue makeup on it at all!
Following this, is the
Aqualabel Moisture Lotion
(S$24.90 for 200ml) that acts in place of a toner to soften our skin and prep it for the other skincare products.
What is unique about Japanese skincare is that they do not use toners or astringents but softeners as they believe that if the pores were minimized, the other skincare products applied on in the later steps would not be effectively absorbed by the skin.
The
Aqualabel Moisture Lotion
also removes excess dead skin cells and helps promote production of the skin's
Natural Moisturising Factors
to keep skin moisturized all day.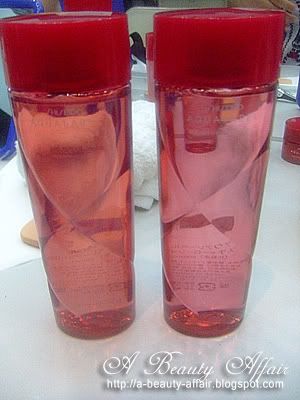 Aqualabel Moisture Lotion
comes in S & R formulas. S - Fresh is for those with normal to oily/combination skin whereas R - Moist is for those with normal to dry/dehydrated skin. I have normal to combination skin and thus, I tried the S type.
After patting the
Aqualabel Moisture Lotion
with a cotton pad across the face, it was time to apply the essence.
For the
Moisturizing
range, there is a total of
FOUR
essence types: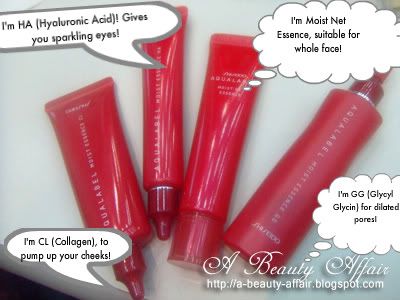 Aqualabel Moist Essence CL (Collagen for cheeks) - S$29.90
: Gives elasticity to saggy-prone skin with collagen capsules.
Aqualabel Moist Essence HA (Hyaluronic Acid for eyes) - S$29.90
: A rich gel formulated with 5 times of Hyaluronic Acid to provide skin with moisture & firmness.
Aqualabel Moist Essence GG (Glycyl Glycin for dilated eyes) - S$29.90
: Reduces appearence of mature pores that are prone to enlarging.
Aqualabel Moist Net Essence for face
- S$29.90: Intensive moisturizing agent that pumps up the skin from deep within.
I sampled the
Aqualabel Moist Essence CL (Collagen for cheeks)
to pump up my cheeks. The texture for their essences are light-weight and easily absorbed by the skin. It does not leave any sticky residue at all, so no worries on that!
I also have the
Aqualabel Moist Essence HA (Hyaluronic Acid for eyes)
in my personal skincare collection and that was one of my
top 5 picks for Aqualabel
. It's highly raved and is a must-have to combat crow feet.
The next step was an indulgence for all of us.
Presenting the
Aqualabel Moist Charge Mask
(S$22.90 for 4 sheets)!
Also one of my
top 5 picks for Aqualabel
.
I love how this masks nourishes my skin within just mere 3 minutes! Even my other favorite masks from Taiwan or HK require a minimum of 10 minutes for the essence to penetrate and work.
Shirleen, of womenlovebeauty.com enjoying the
Aqualabel Moist Charge Mask
with me.
The
unique feature
of the
Aqualabel Moist Charge Mask
is that it has S-shaped cuts (see photo below) for lifting effect to keep skin firm.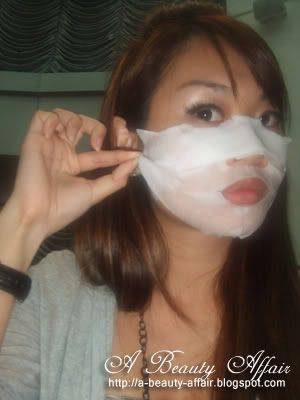 After using the mask, I felt relaxed while my skin looked pumped up and glowing. We were also taught some messaging techniques to perform after the mask. This not only promotes good blood circulation and allows the essence get absorbed by the skin but also helps in slimming down the face.
View the below video to learn the massaging techniques!
- Hosted By TinyPic
But that is not all, the next step is one of my favorites too - Enhancer time!!!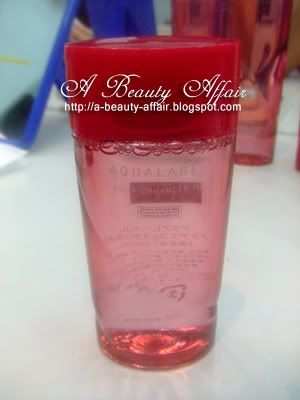 Presenting the
Aqualabel Moist Aqual Enhancer MO
(S$24.90 for 110g )!
I love love love the one from the Whitening range so this one should be just as full of wholesome goodness. Unique to
Aqualabel
, this is an additional step after your usual cleanse, soften and moisturize. Love that it is versatile so I can use it even if I'm using other brands for my first 3 steps. I like how it helps the skincare which I have applied to be effectively absorbed and retained in my skin. It feels like I have just done a mask after applying this enhancer.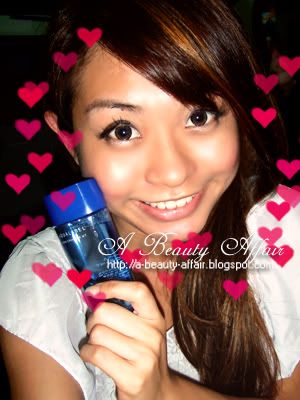 Most of all, I LOVE how supple and "QQ" my skin feels.
So you can see why it was LOVE AT FIRST for me and the enhancer.
Last but not least, we have the
Aqualabel Moisture Cream
(S$29.50 for 200ml) to round up the
Aqualabel MO Night skincare regime
. It intensively charges skin with moisture and its unique capsulated collagen releases moisture into the skin to ensure our skin stays hydrated all night.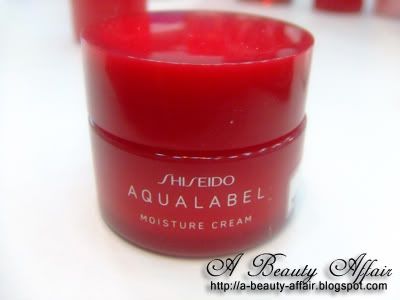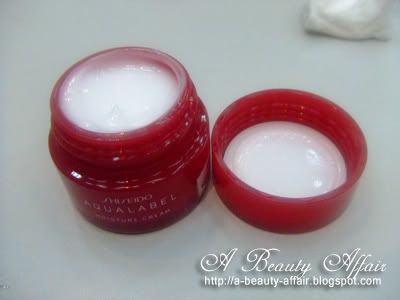 It also comes in S or R type with S-supple being suitable for normal-oily/combination skin while R-rich is for those with normal-dry/dehydrated skin. The texture is slightly thicker than the emulsion but it goes on easily and is surprisingly quick to be absorbed into the skin. I used a little; the size of a 5 cent coin for my entire face from eyes down. (Remember I did not want to remove my eye makeup? Hee...)
And I was done! Perfect! If only I could just grab a bed and indulge in some beauty sleep there and then. For the rest of the girls who were going out for ladies' night or some last minute shopping, they got to experiment and play around with the
cosmetic
range from the
Whitening
range.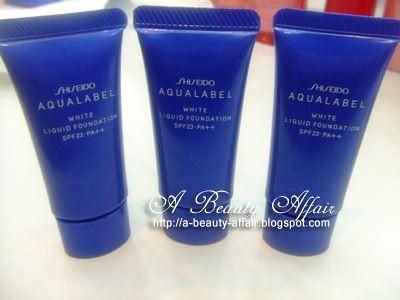 This is the liquid foundation range (S$25.50).
They come in 3 types - OC for natural, PO for pinkish undertones and BO for beige undertones.
The foundation range (S$28.50) also comes in these 3 types:
There's OC10, OC20, OC30, BO10 and PO10. If you use ZA 21 or 22, you can try OC10 or OC20. I have yet to receive my
Aqualabel White Liquid Foundation
so do stay tune for my review on that too!
Aqualabel
's
Moisturizing
range has a pore concealer which reminds me of the
ZA pore smoother
.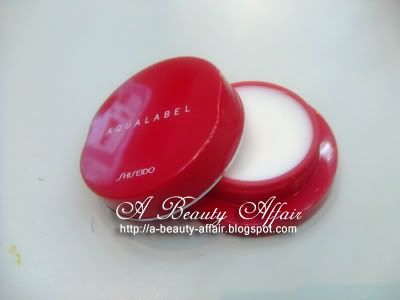 The texture feels similar and it minimizes the appearance of pores once applied.
Use this before or after your foundation.
And what is a workshop without a doorgift?
We were each given cute miniature samples of the products to try out!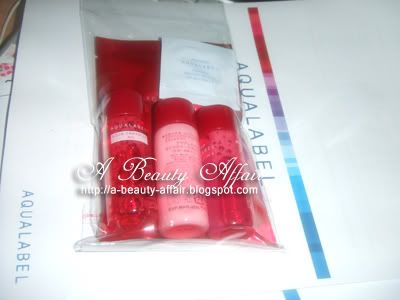 Thank you
Shiseido
for this informative workshop! I left equipped with more knowledge on
Aqualabel
and its product range.
If you wanna get your
Aqualabel fix
, just drop by any Watsons branch. Some branches have friendly sales assistants to help you with your queries and in picking out the right range for your skin type :)
As the famous quote by Shiseido's first president,Shinzo Fukuhara (1883-1948), goes
"Let the product speak for itself."
You've got to really go try out the products yourself to see why it's so highly raved.