I paid $18 for the supposedly worth $300 massage+body wrap+steam+scrub.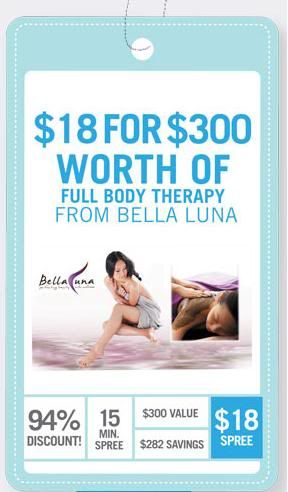 It was a promotion held through Cozyspree. Don't be deceived by its relatively professional-looking website. This spa is far from the image it intends to project.
Firstly, the location was a pain in the ass.Cuppage Plaza; more notoriously known for its sleazy health centers and KTV joints was also home to Bella Luna Spa. I found the spa tucked away in a dingy corner of the basement II. As I entered, I was greeted by its sombre decor - mostly black; which I personally found rather unwelcoming.
The consultant gave me a drink before explaining the steps of the treatment I was about to receive. First a 30min massage followed by a wrap, steam and then a scrub to end it all. Wow, so many treatments at one shot, I thought to myself, this was gonna be relaxing.
I was ushered to their locker room and to my dismay, they did not have disposable bathroom slippers. Instead I was given flip-flops that was used to death and still damp from the previous customer's. How unhygienic, I had no choice but to just cringe and hastily make my way to my designated massage room.
I was in for another rude shock again, the room was poorly decorated with its sad, dark purple walls looking upon me. The unfurnished concrete flooring felt cold against my bare foot, nevertheless, I was more than happy to have disposed of the clammy wet flip-flops.
The bed had these dark khaki greenish gray towels on it. Maybe it's the color but they reminded me of somebody's forgotten dirty laundry left in the laundromat for months.
My masseur was an aunty who claimed that she did Zoe Tay's pre and post-natal massages. She seemed like a pretty nice lady. She said that I had pimples on my back (which I didn't think so; those are just fading pimple scars) so it was better that I top up a body mask for $10. Fine, I thought to myself, it was just $10 bucks anyway. So I had the scrub first and then showered it off in their tiny shower corner which also spotted the same bare concrete flooring. Yucks.
After that, I had the 30minutes FULL body massage. And I couldn't even relax because the hole in the massage bed which allowed me to be lying on my belly, showed the shrinkwrap they kept under the bed. Not exactly pleasant to the eye and I did not een feel relaxed enough to want to close my eyes.
The body massage was finished in a jiffy, I don't even know if it was really 30mins? But anyway, I had the body mask applied on and then I was left to steam for supposedly another 30minutes.
I left the massage room not feeling recharged, relaxed or satisfied. The consultant attending to me thereafter also made a mistake; she thought I did their facial. Interestingly, they did not accept cash only NETs. And they were offering me this $300 treatment at $200 for 3 times or 4 times (student rate). Luckily, they made no attempt to hardsell me at all. Perhaps that's their only saving grace.
Overall, I'm totally not impressed at all. This place deserves only 1 heart out of sympathy.
Rated: