Open Eyes Chrome Intensity is a new offering by the great people from L'oreal. Inspired by the bright, intense hues of the butterfly's wings, these limited edition palettes come in four smoky, shimmery shades. Each palette has a highlighter (lightest shade; the one on the top right hand corner of the palette) that is to be applied in the corner of the eyes and under the arch of the eyebrows to enhance and open up the eyes.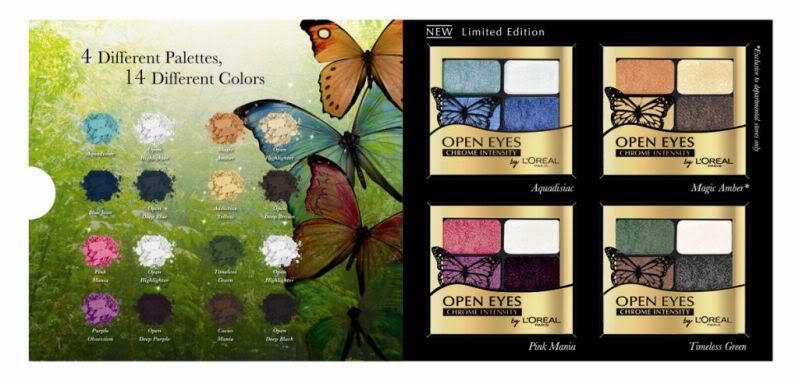 Huimin & I attended the blogger's party for Open Eyes and were in for a real treat.
It was held at Fika, a swedish restaurant down Beach Road.
The function room was beautifully adorned with pretty butterflies to suit the theme.
I received all four limited edition palettes and the colors are an absolute beauty!
Even the packaging looks oh-so-gorgeous, that I can't even bear to open up the palettes to try out.
By the way, you can see that even Monty, the resident butterfly at our table is attracted by the dazzling symphony of colors. I think Monty wants to steal my palettes home!
We were treated to a delicious lunch. Photos on that will be up soon.
I especially dig the appetizer which was potato wedges with a generous topping of melted cheese. Mmmmmm, heavenly!
Huimin had the swedish meatballs while I had the swedish hash.
Here is Monty trying to steal our wedges because they taste so good!
The highlight of the event was that we got to try out the new colors with the help of professional makeup artists. Under the skilful hands of Julian, both Huimin & my eyes were transformed immediately!
Our makeup artist, Julian!
Here's Julian working his magic on Huimin.
We were left dazzled & impressed with the end result.
Pity the camera could not capture the details properly...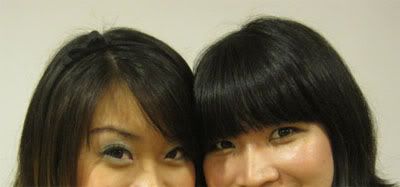 Here's Huimin with magic amber harmonies on her lids.

I had the gorgeous shades of the Aquadisiac palette make up my lids.
By now, you should have seen the stands at Watsons and know that Evangeline Lily is the face for L'oreal Open Eyes!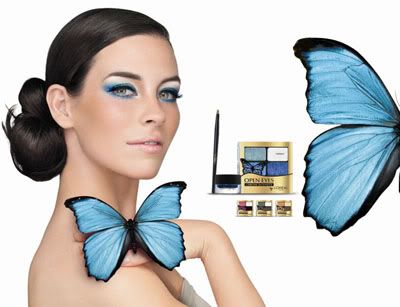 Anyway, Julian mentioned that the eyeshadow can last on our lids for up to 12hours provided that we didn't have oily lids.
For mine, it lasted around 6-8 hours in total if the area was left untouched by hair/itchy fingers.
If you are tempted to try out, then do not hesitate because these are limited edition palettes! They might just fly off the shevles before you know it.
Open Eyes Chrome Intensity palettes can be found at all Watsons & departmental stores for S$19.90.
Only magic amber can be found in departmental stores. (IIRC)
Anyway, do WATCH this space as I will be holding a mini contest soon.
Winner will get to walk away with a $50 hamper proudly sponsored by L'oreal!!!
DO STAY TUNED FOR MORE!!!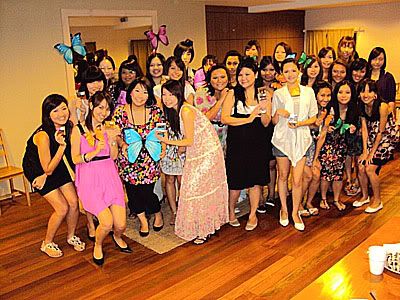 P/S: I apologize for the lack of photos but I appeared FAT in most of the photos taken so they were not uploaded :(