Biotherm will be launching Skin Vivo come September 2009; a breakthrough in skin care that promises to revive your skin's natural anti-ageing process and visibly rejuvenate your skin by 10 years*! Yes, 10 amazing years!
This was measured by a scan in the density of the skin support tissue of 32 women in a focus group. Visible improvement of up to 10 years change in skin density was the end result! Impressive, isn't it?
Many thanks to Biotherm & Cozycot for this invitation to their press launch.
We were treated to a visual feast of beautiful paintings of an artist's impression of rebirth (theme of Biotherm's skin vivo). The breath-taking paintings were so realistic and emitted a raw beautiful energy; a vitality of new life.
Do you see the jar of Skin Vivo Moisturizer in the hand of the woman in the painting?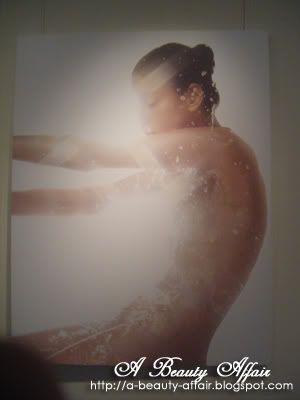 Upstairs, we had a short presentation on the Skin Vivo range.
Unfortunately, HM & I were late so we missed quite a fair bit of it.
Anyway, just a brief intro about the Skin Vivo range.
They have a serum, moisturizer, toner and eye cream.
The whole set would cost you approximately SGD $419.
The Skin Vivo serum would be their star product.
It contains a
'patented combination of Pure Thermal Plankton in recorded doses and reverserol SV'
. The serum is said to
protect DNA and repair the micro-alterations that accelerate the aging process
. WOW! Doesn't this make you want to rush down to the Biotherm counter and reserve your set?
And guess what? The serum does brighten up your skin as well.
We could see visible results the first time trying it out.
HM's right hand was so much brighter and lighter in skin tone as compared to her left hand. We were both very impressed by such instantaneous results!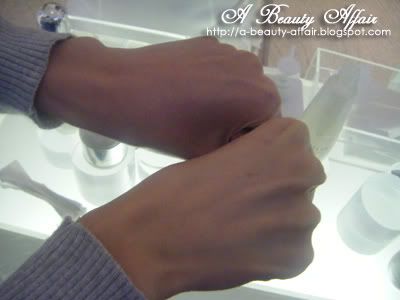 However, there was not much difference in mine. Maybe my skin tone's too sallow :(
And I must say that I enjoyed the finger food very much.
The drinks were creatively presented in test tubes. How cute!
My favorite dish was the meat pie and this delicious mango chocolate.
Last but not least, we were each given a wonderful goodie bag generously filled with lovely treats from Biotherm. I'm so glad that we got the Skin vivo serum and moisturizer to try out.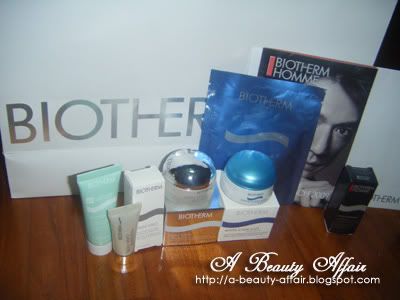 I'm seeing lots of potential in this range and can't wait to try it out!
Additional Information:
Skin Vivo Moisturizer's Ingredient List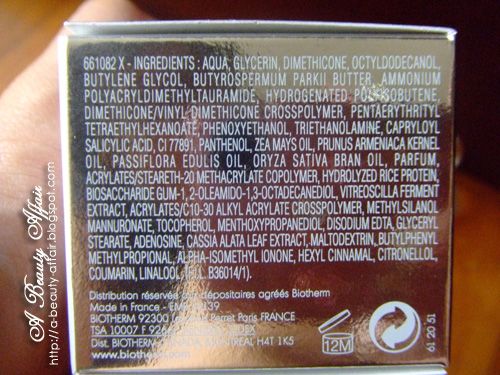 Skin Vivo Serum's Ingredient List
Rated: