I LOVE Etude House at Plaza Singapura.
It's this cute little Korean shop selling beauty products.
Overflowing with girly charm, it's sweet pinkish theme is definitely
hard to miss while shopping around Plaza Singapura Lvl 1.
Previously, they were giving out fluffy, bimbo pens as freebies.
This time round, they were giving out cleanser samples.
And we also got a free Oxy sheet mask as a gift with purchase!
How lovely! I like generous stores :) Hahaha....
My first buy there:
Nail polish at S$2.50 each.
I tried DIY french tips and managed to come up with this...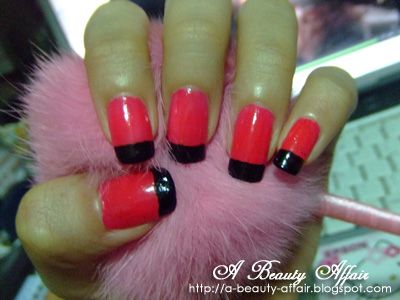 Haha...the tips are not perfect but it's not that obvious from afar.
I'll just make sure noone comes too close to my nails =x