What?
O2 White Mask Sheet
Where to buy?
Etude House but not available for sale
How much?
Not for sale
Sadly, this is not for sale but only available as a freebie.
They have the ones in a tub, the wash off kind for sale as an alternative.
More information about the tub ones can be found
here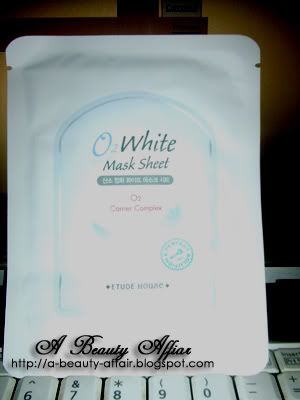 I was elated when I saw them giving it out on Monday as a freebie.
The O2 white mask sheet was calling out to me.
I felt compelled to go grab one. After all, it was free.
So I just tried one on after cleansing my face from makeup.
I left it on for around 20 minutes because I lost track of time.
The instructions behind read 10-15 minutes.
Anyway, one thing I really like about this mask is that it was not
dripping with essence when I opened it.
I hate those sheet masks which makes DIY masking such a messy chore with all
the goo dripping all over you after you try to fix it on.
The essence packed was adequate and just right.
There was even a little bit more left in the pack which I used on my neck.
So after 20 minutes, I was to surprised to see that it actually worked!
My skin appeared brighter and fairer.
Pores appeared smaller and less visible.
OMG this is good stuff man!
I'm a convert!
Rated: