I'm so elated to have won something again!
This time round, it is from Women's Weekly and I seldom read this magazine since you know it is more targeted towards an older age range.
But because it was a freebie in a goodie bag, I decided to browse and I've been participating in such SMS contests. I would have probably spent up to $5 so far over the months on various SMS contests for women magazines like CLEO and Her World etc.
And it's great to have won something now that is greater in value to what I've been spending on in attempt to win.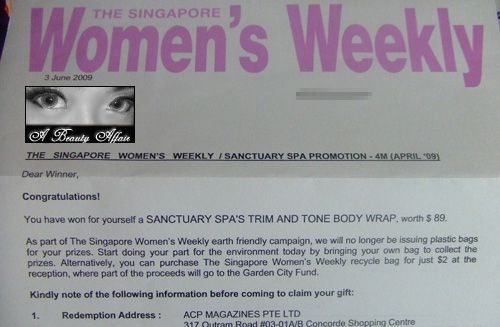 Sanctuary Spa Covent Garden is one of the top spas in UK and these Spa Sanctuary products are the range they use in their spas.
I've watched the
video
and read the
website
. It claims to help you lose inches within the first usage. I was soooooooo tempted to try but I was deterred by the hefty price tag. Now, I get to try it for free and hopefully lose some inches too!
Kit contains:
1 x Pot of Body Clay
4 x Bandages
1 x Loofah Mitt
1 x Tape Measure
Measurement Chart
The product description from their website reads:
Tone up 'problem areas' with this detoxifying clay wrap. The purified clay has been infused with a complex of natural ingredients that have been shown to help detoxification and firming by encouraging collagen synthesis. Massaging the clay over the chosen area assists circulation and natural drainage, while extra-wide cotton bandages are designed to enable easy wrapping at home and are tightly ribbed to give an instant toning and slimming effect. After just one hour unwrap your figure, shower and enjoy slipping into your most daring outfit…
A review in one of the UK magazines called 'Fabulous'.
"When I removed the bandages I was amazed – Id lost 6cm from each thigh, and 4cm from my waist after just one treatment!".
INCH LOSS: 6.5
I hope to see similar results too when I get my hands on my very own kit!
Stay tuned for my review alright? :)
The Spa Sanctuary's Trim & Tone Body Wrap kit is priced at $89 and is currently available at Watsons.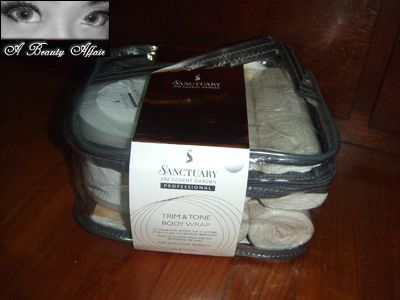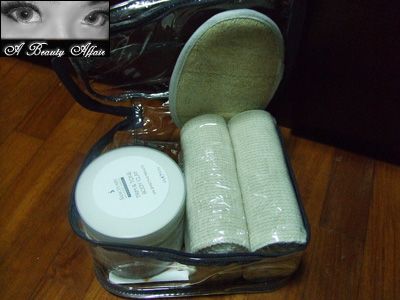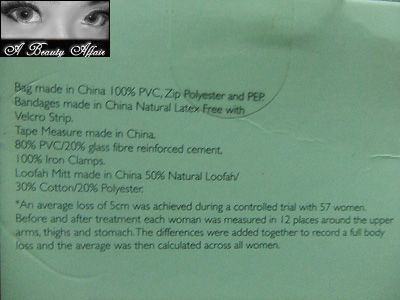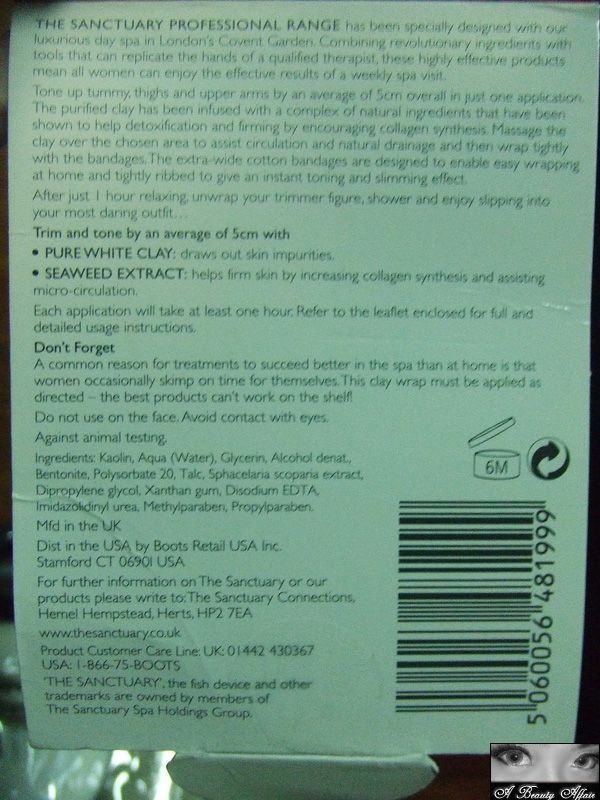 By the way, what do you think of my new blog layout?