The ZA Pore Smoother is the latest addition to the ZA Blemish Shoot range.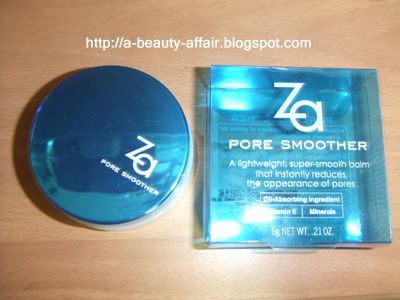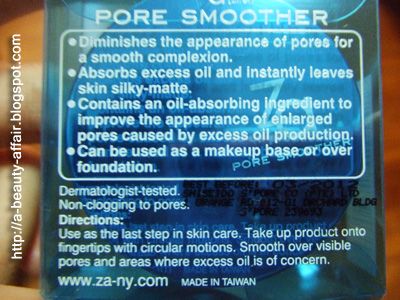 Where to buy?
Watsons, John Little
How much?
UP $15.90
This is an interesting and innovative product.
Thank you, ZA for letting me have a chance to try and review it.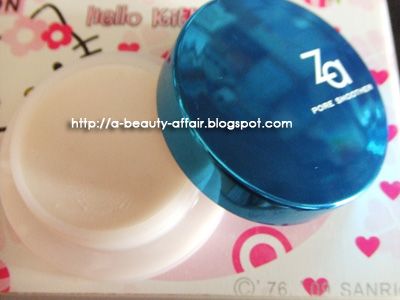 I was initially skeptical about how the pore smoother could actually minimize the appearance of pores and all.
However, I was convinced after trying it on as I could see that instantaneously, my pores appeared less visible.
I like how the balm is light-weight so you hardly feel anything when its applied on. Another great thing was that it is also odorless and colorless.
So it does not feel heavy on the skin or pore-clogging.
And something which I'd figured out, appear balm on slightly damp skin = better coverage! I used it BEFORE makeup.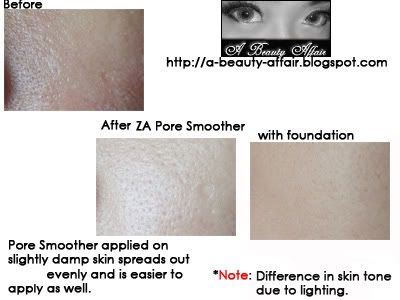 Urgh, I hate my chicken pox scar! >.<
Photo taken on 24/05/2009
After applying my makeup, I could hardly see my pores at all.
It made my complexion appear smooth and flawless.
Best of all, it did not cause my skin to breakout.
I would say, thumbs up for this new product, and at a price of $15.90.
It is such a steal as compared to Shills Pore Perfect & BeneFit's Dr Feel Good.
Also I find that it goes on well with both liquid foundation & 2-way foundation cake.
I bet it'll compliment cream foundation as well.
However, even though it's said to be able to used before or after makeup.
I think it works better BEFORE makeup.
As AFTER makeup, it'll cake up the 2 way foundation powder.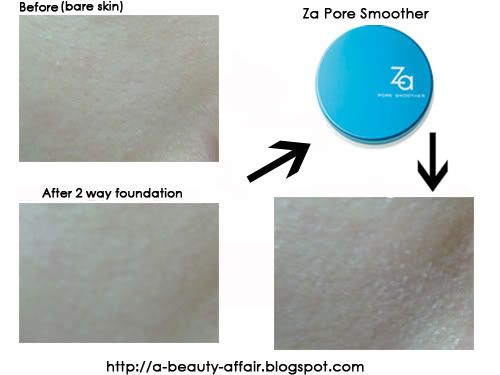 I'm using L'Oreal True Match 2way foundation here.
Photo taken on 25/05/2009
For more information, go to
ZA Pore Smoother Product Details
Rated:




***NOTE:
I know there seems to be a difference in my pore size from the 2 photos.
After taking those horrendous photos on 24/05 & realising how ugly my pores appeared.
I did a scrub using the Dermalogica Microfoliant, followed by a deep cleansing Queen Helene Mint Julep Masque & then Dainty Rose Sheet Mask.
This could have helped in making my pore size look smaller.
By the way, has anyone tried Shills Pore Perfect & BeneFit's Dr Feel Good?
Shills

BeneFit
It'll be great if we can do a comparison among these 3.
If you've tried all 3, do tag or email me. I'm interested to know more :)