Get it at Kinokuniya as I heard that you'll get an additional Laneige Pore Free Trouble Kit worth $28 on top of the freebie Lancaster sample.
Unfortunately, I got mine at the bookshop near my workplace so no Laneige freebie for me :(
And you can trade your insert in the magazine for another 2 Lancaster samples.
The Angelfit Maybelline Pore Zero Makeup Base is featured in Her World.
Click to read some reviews:
Big THANK YOU to
Maybelline
for giving me the opportunity to review it.
Interesting snippets in the magazine:
So now we know :) I can continue using what has been working well for me.
It's not that my skin is 'immune' to the product but it is cause my skin has improved; thanks to the product.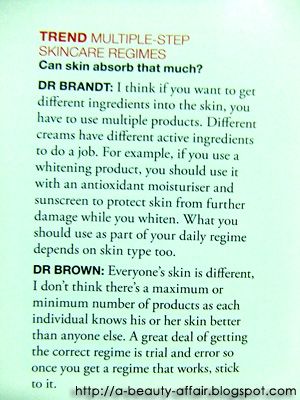 Also there is more information inside on how to join Bio-essence's "Look Younger with Golden Glow Instantly with Bio-essence 24K Bio-Gold Series" Challenge.
The first 100 readers to get back to Bio-essence will be selected to attend the event in late June and receive a fabulous goodie bag worth $209!
I've heard and read that the Bio-Essence 24K Bio-Gold Eye Care Twin Treasures for eyes are pretty good.
And it doesn't come cheap.
The Anti-Dark Circles Essence is priced at $43.50 and Eye Contour Lifting Serum costs $59.50!!!
So how can I miss something as attractive as that!?!
I've even told my girlfriends to sign up too :)