I went for my free acrylic nail extensions & express
manicure last year at QianZuGe.
Becus I won it via Cozycot & also got a voucher from
fr3b.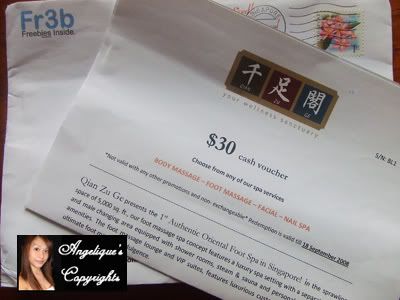 This is my review.

Location :
Not accesible for me cuz i live in the west.
I took 145 from toa payoh int and it was around 7-8 stops away.
Better for those living in the north area.
Alot of hotels in the area, I was afraid that I would get mistaken for a hooker!
Saw a couple of dressed up China women but had no idea if they were
hookers or not.
The ground lvl of the ROCCA Balestier bldg was a pub filled with what seemed like tiko peks.
I was quite turned off but didn't get disturbed as I made my way past so it's alright I guess.
Place :
Very oriental themed just like it's chinese name.
Not as huge as I'd imagined it to be after seeing the pictures on the website.
The mani/pedi room had a TV facing the two seats so I was not bored at all!
Service :
The receptionist was friendly but the 2 manicurist were not so. I smiled at one of them but she didn't exactly smile back.
It kinda spoilt my mood in a way.
I now know why people say don't be the last appt of the day cus they would usually rush thru to get the job done so that they can go home.
My appt was at 7pm. They are opened til 11pm but if they finish the nails for the last customer before 11pm, they can leave as soon as they are done.
Initially, I'd chosen a more elaborate nail art design for my fingernails (3d nail art costing $50) and french for my toes but the manicurist said my toe nails were too short to do french. So I chosed nail art for my toes too....
My first choice was this floral sparkly purple design and then the manicurist casually commented that she wanted to tell me to choose that for my fingernails.
Am I too sensitive or what? But I felt she wanted to advise me to do that for my fingernails cus only 2 fingers required the 3d nail art unlike the design which I'd in mind (all 10 fingers required 3d nail art). Seemed like she just wanted to get the job done fast so that she could leave. I also heard her telling the other lady that she felt like quitting cus of the way the appts were being arranged?
Was she overworked? Or she didnt like to work til too late? I don't know.
I just felt that they lacked professionalism, you don't say such stuff infront
of a customer.
So anyway, I just agreed and did the less elaborate nail art for my fingernails in the end. My fingernails nail art costed $20 only.
Acrylic nail set :
This is my 1st time doing this and I find it very much a hassle. I guess it might be a first and last time.
Is this normal? But some of my fingernails hurt when touched, like it's being squeezed. Some very tight feeling....
In-fills cost $30 whenever your nails grow out but if you wanna remove them, you gotta soak them off at $50. What a hassle!!!
I shall stick to my own real nails in the future, afterall, people already think my real nails look fake. (I'm taking that as a compliment)
Also my job was pretty rushed I felt. There's polish marks on several of my fingers but manicurist didn't bother to check.
Finishing coat not even too I noticed.
But since it is for free, do I have the rights to feel upset about it? :(
Manicure & Pedicure Service :
Overall not bad. I enjoyed it!
Nail Art Choice
: I was only given ONE booklet to choose from and it had like 6-7 pages only?
After I went back to the receptionist to make payment, I noticed a board on the desk with more designs. Why was I not shown that too?
I quite like one of the designs but what to do? My nails were already done.
Overall Verdict :
Lots of room for improvement.
Manicurists should be more friendly, customer oriented and smile more.
More nail art designs to choose from please.
Management should ensure manicurists are not overworked or unhappy with the scheduling of appointments cus eventually its the customers who bear the brunt when they are unhappy. I don't like my nail job to be rushed!
Will I return? :
I guess i'll need a really good reason for this. Maybe some voucher I feel that I do not wish to waste or a promo too good to give a miss.
Further comments :
I had high expectations but returned slightly disappointed. I hope that they will improve in time to come.
Anyway, here's how my nails look like now :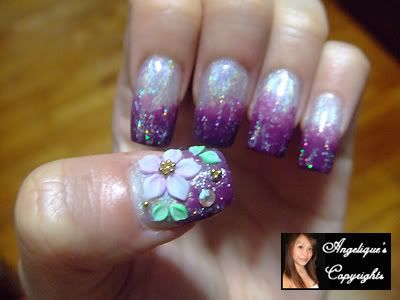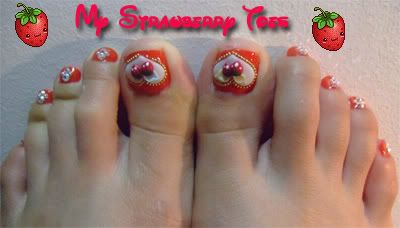 I don't get it but the gold beads on my left toe keeps dropping off :(
I'm rather displeased with this considering it is only the 2nd day!
CONS
1) Nails grew incredibly weak after I had the extensions soaked off!
I had alot of chipped nails for the few weeks that followed. My nails are generally
strong and this upset me alot.
2) When I had my nail extensions, I could not remove my contact lenses properly without hurting my eyes.
3) I had to be careful and not hit or bump the extensions lest they chip or fall off together with my real nails! *shudders*
4) It costs money to remove them. At least $20 at a home-based salon and up to $50 over at a professional salon. What a waste of money!
PROS
1) Nail art stays on reaaaaalllly long on fake nails!
It can stay on till 2 months unlike normal nails which last for 2 weeks only.
Because of that, you can have really gorgeous designs on your nails but then again,
they come with a price.
Rated:


.5 minus the rest for the long-term suffering after that.
Rating applies to both having nail extensions on and for the salon itself.
Verdict
: Nail extensions are not for me.
I can't stand having weak nails nor end up tearing with red eyes each time I remove my contact lenses.