More freebies again.
Gosh, makes me feel so happy knowing that I'm getting
all these goodies without having to burn a hole in my pocket.
The economy is so bad now that it isn't that crowded anymore on a Saturday at Orchard road.
Gone are the days where you need to jostle around with the shopping crowd.
Almost every store is having a sale.
It's like a solemn reminder of how bad things are right now.
How desperate businesses are to get sales.
Before I met up with HM,
I picked up a sample of the Bio-essence slimming creams.
I bought a pack before at Watsons for $1.90.
And now it's going for $2.95 at Guardian.
Anyway, it's finishing so I managed to grab this pack FOC
thanks to Cozycot & Bio-essence.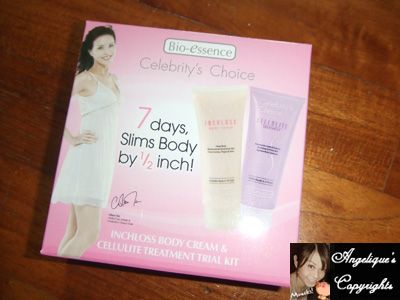 I've not been using it diligently so I can't really comment
as to whether it really works or not.
But I can assure you that it does help psychologically.
Once rubbed onto the targeted area, you'll experience this
tingling, hot burning sensation.
And for me, it's like the product's way of showing its effectiveness.
I know I sound really lame here but of cus, deep down I am really hoping
that it's just more than that.
HM & I attended this Cozycot session with Biotherm at Centrepoint.
We were introduced to their White D-tox makeup bases.
Gosh, I was late and reached around 1.20PM!
Lucky for me, they started late too...like around 1.15PM?
Anyway, it was a short and sweet workshop. Thumbs up for that!
I totally detest draggy talks.
And pretty much more like a sales pitch and product introduction.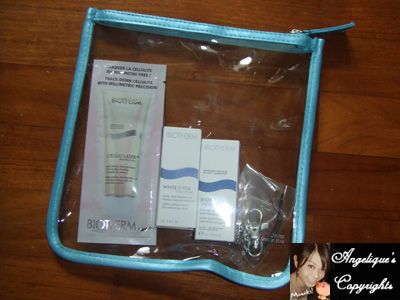 Rated
:




Minus one for the lack of snacks or maybe cus I was late?
This is the goodie bag we received.
I'm pretty excited to try out the samples!
Especially the Bio-Pur pore reducer... doesn't the name alone
sound enticing already?
There was this really cool handphone/bag charm dangle found in the
goodie bag as well. It's so kawaii!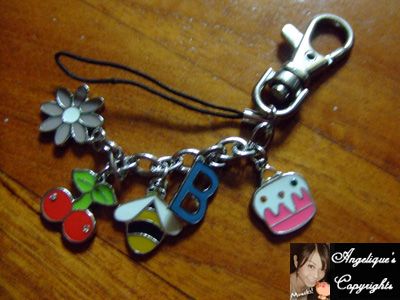 After shopping around town, we went past this Kotex booth by the underpass.
Kotex has this interesting marketing campaign where they would employ guys.
Cus to me, guys and sanitary napkins don't exactly go together.
Anyway, they'll get "pleasant-looking, tall and outgoing" guys to give out
samples to the ladies.
Haha, I've seen the job add before and HM told me that they get paid $15/hour.
Eh, I seriously don't mind doing such a part-time job too!
It's like as though they're treating this as yet another "sex sells" jobs.
Since they get scantily-clad ladies to parade around with gadgets at IT shows,
hand out flyers at product launches etc.
But seriously, hunks and sanitary pads have no link.
Anyway, may I emphasize that the guy who handed us the samples was no hunk.
Just some regular guy whose probably waiting for NS or something. Kiddo.. =P
Then when I got home, I was pleasantly greeted with a parcel on the my desk.
It was my freebie masks!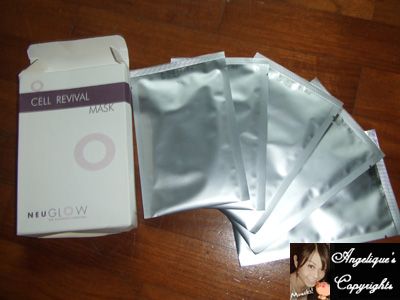 Cell revival masks costing $50?
Which means it works out to $10 a sheet, considering that it's a box of 5 sheets.
That's expensive though of cus not the most pricey in the market but still...
Rated
:




I love it! It brightened up my face immediately after just one usage.
I went to bed without any moisturiser after the mask and woke up
with a radiant complexion.
Oh & Nice miss mutton also passed me a sample of Drx CF solution for blackheads.
I'll be trying it out too later after I remove this pore pack from my nose.
Adios~