Where to buy?
: Watsons
How much?
: See below
ZA Dewy Effect Cream Gel
@ $23.90
Highly raved in local beauty forums so I had to get one for myself.
Tested the texture from the sample;it was light and watery.
Only thing I hate about it is the packaging.
I find creams in a tub kinda tricky, gotta use a spatula
due to hygiene purposes!
Bio-essence Tanaka White Trial Pack
@ $12.90
Rated:





Got this cus it would come in handy when I crash over at SO's place.
And because it is the trial kit, I would also get to try out out the
cleanser, toner and mask.
Probably would do a review soon? (I hope! I've been getting lazier recently)
Black Microelement Crystal Mask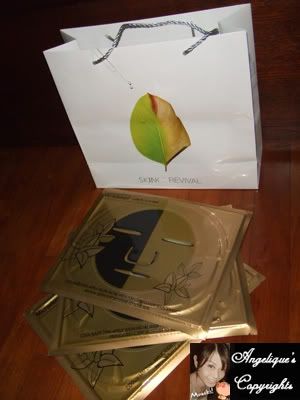 Rated:




Minus 1

because of the price
Ok so I went to the Skin Inc private sale @ Central on Sunday.
The lady who attended to me and my skincare junkie friend seemed more interested
in selling us their pricey serums which cost up to like $198 for 30ml.
The most you get is 20% off if I recall correctly.
In the end, we bought a treatment of skin infusion at $38.
We got the diamond peel treatment free since we attended the sale.
And this is very worth it as it would usually cost you....
Diamond peel UP $98
Skin infusion UP$198
Mask UP$20
Total: $316 (TOTAL MADNESS!)
I also bought my favourite mask but I'm still trying to find a supplier.
I got the masks at $19 each (discounted price) instead of the usual $45.
I just simply do not understand why is it selling at such a steep price.
However, I do like this mask alot because your face really appears brighter after 1 usage.
And you can use the same piece of mask for up to 3 times, max of 5 hours in a week!So if you compare it with your cheap sheet masks, it is almost the same...
Working out to approximately $1.30 each 20 mins use.
However, I usually stretch it beyond that... =x