Where to buy?
:
Beauty Bistro
OR John Little / SASA
How much?
SGD$21.50
I couldn't find much info about this particular
Korean
Taiwan brand, Shills.
However, I know that it's much raved on NU REN WO ZUI DA and that it can
be found in payeasy.com
It is also retailing in some local online stores.
Try googling for 'Beauty Bistro' or 'Yourlifestore'.
What I got recently:
Super Magic BB Cream, Sexy Legs Spray Foundation
Retail Price $21.50
cus I have ugly legs....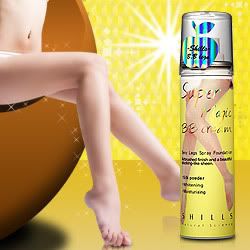 Product Description:
SHILLS B.B Cream Sexy Leg Spray Foundation gives you the instant effects of sexy glossy legs without stockings or pantyhose. With its creative super light nude-look particle adsorbing technology, it instantly modifies uneven skin complexion.
No oily & uncomfortable feeling in hot climates. Extracted from all natural herbal essence with Korean manufactured EGF technology.
Natural whitening Arbutin essence whitens and moisturizes the skin. Peppermint essence refreshes tired legs and cools down skin in hot weather.
VERDICT
: It is just like what the product description suggests.
Foundation for your legs. What comes out of the nozzle is icy cold, beige mousse-like substances. Then you spread it evenly over your legs so that you don't look like you've got patchy legs.
I don't know how long can one tiny spray can like this last me!!!
Seriously, if you need to do this for both entire legs, it's gonna take quite abit of
the BB cream.
It did work though but needs alot of spreading and proper blending lest you end up looking streakish.
You see, I get red marks after I epilate my legs.
And this would help in concealing the marks even if it's just alil coverage.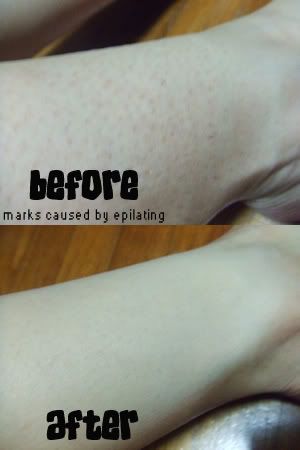 Rated:



And we shall move on to then next product....
Shills Chocolate Peel Off Mask
Retail Price $21.50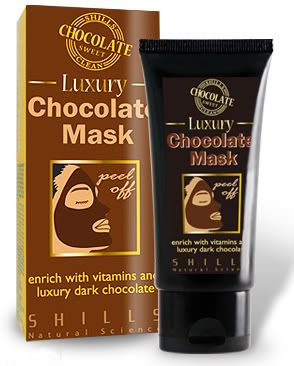 Product Description:
A French chocolate beauty secret. Firms and tighten pores without oiliness and brightens the skin immediately. Removes excess oil and impurities by peeling, purifies the skin surface.
Shills Chocolate Peel off Whitening Mask is creatively made using chocolate essence and natural herbs which help to deep cleanse pores, remove old dead skin and extra oil. It can effectively slim facial features to create 3D V-face. The results are a slim, whiter and soften skin.
Strong chocolate fragrance brightens your mood.
VERDICT
: Ouch, painful when you peel it off!
It's like chocolate fudge oozing out of a tube! You spread it evenly onto
the spot you want and wait for it to dry.
After that, you can start peeling and oh boy, does it hurts! Cus it's
kinda like waxing.
This product REALLY removes your facial hair.
I saw like a zillion of tiny, very faint fine hair on the mask!!!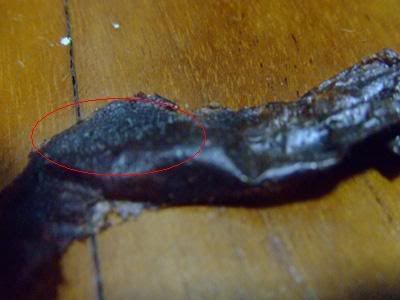 It was not as effective in removing my blackheads as a pore pack but I still
like this mask! Haha! I don't know why. Maybe cus it's something
so unique and innovative since it's a CHOCOLATE mask. When on second thoughts,
it is really pretty similar to the Dasio Charcoal Mask which costs $2 only.
I think I'll grab a charcoal mask soon and try it out again to compare the two.
Rated:




ETA!!!
Stick to the Shills mask.
I tried the Dasio charcoal mask and it didn't really work at all.
PLEASE REFER TO MY LATEST POST(Dated Thursday, 7 May 2009) ON THIS!
It works great if you use a scrub before using the mask!
CLICK HERE FOR IT