I attended this ZA event and learnt about the right makeup techniques.
How to do your concealer, eye makeup correctly etc.
How to pick the right shade of foundation.
All in all, it was an interesting and informative session.
We got to try out the ZA products on the spot as we learnt
how to use each of it the proper way.
Here's what each of us got for the door gift.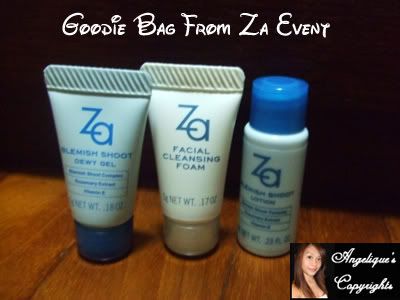 To be honest, ZA's doorgift pales in comparison with the Maybelline's one.
Haha....
But anyway, I tried the blemish shoot dewy gel yesterday.
It is light in texture, very easily absorbed by the skin and feels like water
once you apply it onto your face.
This is great for those with combi to oily skin tone as it does not
feel too rich or clogging for your pores.
I also tried the cleanser from the Neutrogena sample.
It smells good and it's not bad. Not drying to the skin.
But yup, most cleansers feel the same on my skin...
Rated:



(Minus one for the goodie bag being alittle too tiny *LOL*, minus another one for the promotion after that not being enticing enough)
They offered us a discount of 20% off their ZA range but we could easily get
the 20% off at Watsons, Guardian or John Little.
I felt that maybe they could have offered us a much more enticing deal.