Where to buy?
: Guardian
How much?
RP $33.90 for 250ml
Taken from the bioderma website itself:
"BIODERMA innovation, Sébium H2O gently cleanses the skin without drying it, through the micro-emulsion of impurities and excess sebum.

• Enriched with purifying active ingredients, Sébium H2O cleanses the epidermis in depth and regulates secretion of sebum. The patented sebo-correcting complex, Fluidactiv®, normalises sebum quality.

• Sébium H2O guarantees excellent cutaneous and ocular tolerance.

• Sébium H2O is non-comedogenic."
I got my sample yesterday and was excited to try it out.
Since it was highly raved in 8days and Mind&Body according to the beauty advisor.
She also mentioned that this range of products were specially targetting
those with sensitive skin.
(I have 2 sachets because I collected on the behalf of a colleague!)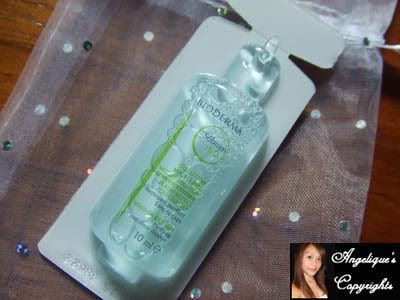 The blue one is for oily/combination skin which I had (Oily on the T-zone & dry at the cheeks *le sigh* )
Verdict:
Interestingly, it is a non-rinse product. You just pour out some onto a cotton ball/pad and then pad lightly all over your face.
It's said to remove makeup without having to rinse or double cleanse too.
After that, you use a new cotton pad dabbed with the solution and then pad all over again to remove any possible residue before you pad your face dry with clean cotton or towel.
Sounds good and totally hassle-free, perfect for the lazy woman like myself!
I read through the reviews on Makeupalley and there were mixed reviews though majority were still full of praise.
What more, apparently, this product is highly raved by models.
Then again, I was skeptical... would this suit asian skin too?
I decided to give it a go last night.
I had some makeup on:
Face: Maybelline Pure Minerals Foundation
Cheeks: Elf blusher in glow
Eyes: Some japanese brand powder liner
Eyebrow: TheFaceShop blackbean liner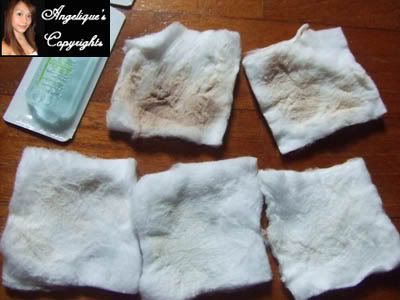 I had to use up to 5 cotton pads to ensure that my makeup was totally cleaned off.
Not very economical.
Considering that the beauty advisor told me that the samples were 10ml each.
So I had 2 which meant that it would last me approximately 10 times.
Thus, it means that 2ml for each use was sufficient.
But I had managed to use up 5ml last night just to remove my makeup solely.
Some MUA reviewers shared the same concern on how costly it would be
if we used this solely as a makeup remover for the entire face.
We would have to use up alot of cotton pads & solution to ensure that our face
is totally free from any dirt or makeup.
So as a makeup remover, I give it:


out 5.
But as a toner alone, it has redeemed itself.
I took the risk and did not rinse off last night and somehow I fell asleep
while waiting for my guy's brother to reach home with the car.
So I slept without any moisturiser on in an air-con room.
However, this morning, I woke up with soft, supple skin.
It worked great and was not drying at all for me.
I am very tempted to purchase it very soon especially since
It's currently going for $33.90 a bottle of 250ml.
But Guardian is having a promotion now.
1st bottle at 20% off and
2nd bottle at 50% off.
So if I buy two, it would cost me
$44.07
$50.85 for just 2 bottles!
That's
still pretty
CHEAP!!!
Rated:





Usual Price : $33.90 for 250ml
Can be found at selected Guardian stores. I got mine from Jurong Point's.